Overcome peak online order surges with three agile technologies
Recent events have amplified the complex challenges of keeping up with consumers' demands and expectations. Online sales have been facing a 'super-peak' period as traditional retail stores outside of grocery and pharmacy are abandoned. This has led to increasing service expectations combined with a much stronger granularity of orders. Never has the reliance on an 'elastic' logistics model enabled by an optimised human/technology interface been so great, especially with the additional challenge of a reduced workforce trying to keep up with the unprecedented demand.
To cope with these requirements, supply chains need to become much faster, more granular and much more precise. Fortunately, next generation software and technologies are on hand to enable higher levels of performance efficiency, maximise order fulfilment accuracy and enable real-time, end-to-end transparency throughout the entire first to final mile process.
"Next generation software and technologies are on hand to enable higher levels of performance efficiency, maximise order fulfilment accuracy and enable real-time, end-to-end transparency throughout the entire first to final mile process."
Let's look at three in particular which can significantly impact operational efficiency, accuracy and visibility: vison-based technology, multi-modal voice recognition and next generation ePOD (electronic proof of delivery) solutions. In our view, these serve to optimise supply chain control, accuracy and efficiency enabling the 'right first time' imperative.
At the start of the order fulfilment journey, vision-based (or camera-based) technologies such as Visual Sort Assist (VSA) and ImageID empower workers to meet strict delivery schedules. VSA enables semi-automated parcel sorting in the warehouse whereby cameras read a barcode and project a number and colour on each parcel to guide workers at speed, minimising human error. Mistakes can rapidly be detected at the pre-shipping stage. Without this technology, the reliance on manual processes increases the risk of errors and bottlenecks, exacerbated in peak periods. Every second lost adds up to significant delays further down the supply chain, leading to customer disappointment and possibly fines or premium shipping rates.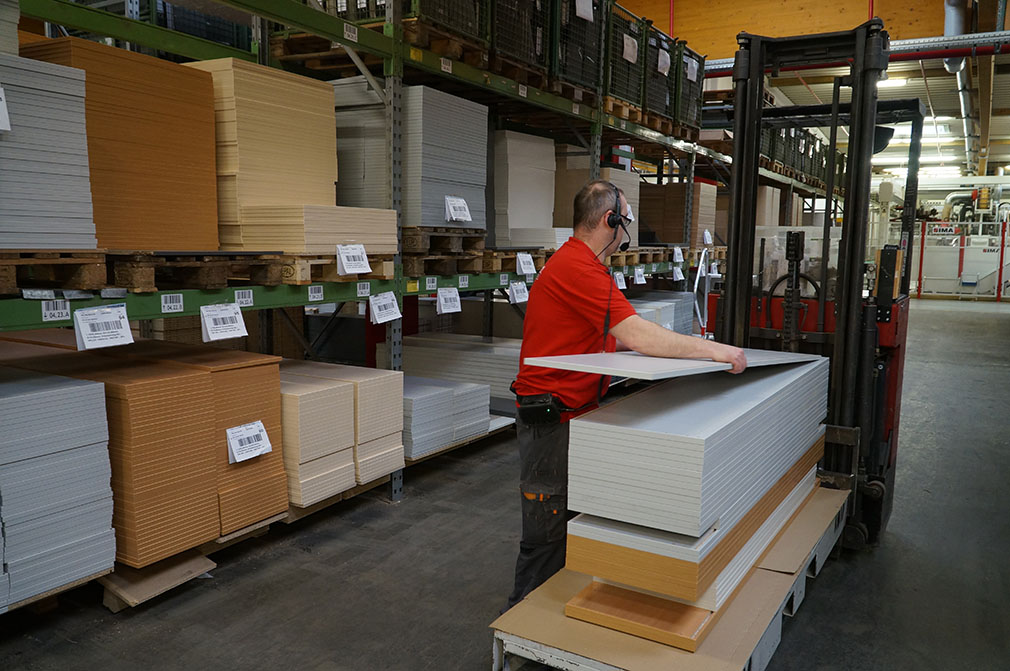 The benefit of ImageID is the ability to instantly capture hundreds of barcodes simultaneously to verify the correct items are on the right pallet and right vehicle. Should any item be incorrect or missing, this is immediately identified, visually alerting the operative – a feat that is not possible with handheld scanners or RFID technology. Reading existing barcodes, this technology doesn't require extra components such as tags (also an advantage over RFID) so is a viable and scalable option to meet workloads. ImageID provides 100% shipping and loading accuracy and is resilient even when volumes increase dramatically, eradicating the need for additional people or technology. It also provides data capture for complete evidence-based traceability - essential for compliance and avoiding shipping penalties.
Both of these camera-based technologies are robust, scalable and require minimum training. Therefore, they are ideal for industrial environments where workers are often seasonal and multi-lingual.
Multi-modal voice recognition technology allows the latest voice technology to be combined with other forms of data capture such as scanning and RFID. Guiding operators through their routine processes, this wearable technology enables the conventional benefits of safe, hands-free working for speed and accuracy. However, unlike traditional voice picking systems, next generation systems require minimal training - operators simply log in, repeat a few keywords and can start to work immediately. Negating lengthy training and configurations, this is a clear advantage for operations needing fast ramp up of changing, temporary teams. The other main benefit is the technology allows other processes to be performed using the same device e.g. goods receiving, put-away, picking, staging etc. This dramatically reduces the overall technology investment for the user; one device, many uses. Innovative multi-modal technology is essential for the digital supply chain, motivating workers with innovative tools for the job.
The latest generation of ePOD solutions ensure visibility at every critical stage of the delivery management process, from vehicle checks, vehicle loading, product transfers, payment, collection and so on. They quickly help identify any shortfalls or inefficiencies throughout the process to optimise service performance and support flawless delivery. Real-time interfacing with any host system (TMS, WMS and ERP systems) provides fast ROI and agility without any major system overhauls. As with image-based and multi-modal technologies, the user experience is intuitive for a multi-lingual and seasonal workforce, providing instant productivity and accuracy. An ePOD solution that enables BYOD (bring your own device) facilitates innovative delivery models in response to high demand, such as last mile crowdsourcing.
A further benefit of the very latest ePOD solutions is their ability to unify delivery data from across multiple, disparate carriers using different systems. This collaborated approach allows suppliers and service providers to share real-time data for complete transport visibility and predictive insight.
Whilst many operations are still relying heavily on manpower, ramping up productivity in peak periods is thwarted by the training of temporary workers, human error and lack of visibility. To stay competitive, agile and scalable technology is essential for instant productivity.
Peak periods have a huge impact on service performance, customer loyalty and bottom line profitability. Equipped with these technologies, operations can turn high season into an opportunity rather than a threat.
Download our latest white paper and discover how to get all your deliveries right first time.