Have complete visibility in a connected supply chain
Manufacturers and consumers are demanding accurate information, faster delivery and low-cost shipping. How do you meet these demands and ensure your business is always running smoothly? You need to manage your supply chain efficiently so you know the exact status of your goods and are able to act immediately to prevent any fulfilment disruption. Zetes' supply chain visibility software provides you with an accurate picture of what's happening throughout your operation, facilitating collaboration between all your stakeholders. It gives you complete control to ensure maximum production uptime and perfect order fulfilment.
Software for end-to-end supply chain visibility
Whether you're looking for accurate fulfilment or to keep Just-In-Time (JIT) manufacturing lines running without disruption, it is vital you know the exact status of all critical logistics activities.
ZetesZeus is a cloud based software solution which gives you visibility and control over yours and partner operations.
The benefits of our supply chain visibility software
Perfect order rate
Improved on-time-in-full (OTIF) achievement.
Less downtime and variances in lead time.
Increase in sales due to fewer stock-outs.
Easy to re-route or re-allocate products.
A connected network
A seamless network without silos.
Closed loop between supply chain planning and inbound and outbound execution.
Run a fully connected supply chain.
Real-time KPI tracking & disruption alerts
Accurate data improves operational intelligence and performance.
Proactive alerts allow you to provide an early response to potential and actual disruption.
Improved supplier/carrier performance.
Reduce costs
Less buffer inventory needed.
Reduction in non-compliance costs and less disruption remedial costs (DC labour, shipping, 3PL fees, call centre).
More efficient use of your own and contracted logistics services.
Faster resolution of disputes and outstanding payments.
"You can't control what you can't see." So how do you bring your supply chain into the visible spectrum?
Download the white paper Supply Chain Visibility Report.
Create a co-ordinated view of your supply chain
With ZetesZeus, you can break down data silos and create one complete picture which connects all critical partners within your supply chain network. You will achieve this without re-engineering any existing systems such as ERP's, WMS's and TMS's.
You can access large volumes of data from your own systems, or those of your partners, and view in easy to use dashboards.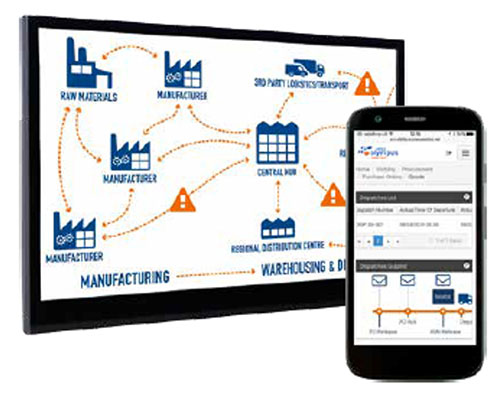 "Many supply chain directors fear the implementation of supply chain visibility might be costly, time consuming and require serious re-engineering of existing systems and processes. It does not have to be that way – not if you adhere to these 5 steps."
Read the article "Supply Chain Visibility Made Easy"
Why choose ZetesZeus for end-to-end supply chain visibility?
Agile control for continuous improvement
With full visibility and control, you will improve services and remove events which could have negative impact on your business.
Brand and consumer protection
Having complete ownership allows you to identify and authenticate your products at any time and any point within the supply chain.
Customisable Collaborative Interface
The data platform can be customised with shared dashboards and real-time alerts for any stakeholders. This includes suppliers, third party logistics, legal entities and consumers.
Flexible cloud-based data hub
Any supply chain data, quantity, value or attribute can be captured within ZetesZeus.
Data is recorded and secure for real-time and historical visibility.
No re-engineering of your existing systems is required to gather the data.
Why work with us?
Zetes is a specialist supply chain execution and visibility solution provider with over 30 years' experience. With international coverage from over 30 offices we will provide the best support and quickest response possible.
Our traceability and visibility solutions are trusted by leading manufacturers and retailers such as EPC Group, Sanofi and Azcar.
Our portfolio of supply chain solutions improves all processes from production to the warehouse to the store.

Visibility platform (ZetesZeus)
Packaging/product identification (ZetesAtlas)
Warehouse process execution (ZetesMedea)
Logistics/delivery execution (ZetesChronos)
Retail (dealer) supply chain execution (ZetesMedea/ZetesAthena)
We are a single source provider with full project lifecycle capabilities including:

Business process consulting
Design & realisation (in-house R&D, development and configuration)
Technology and systems integration
Supply and support
Deployment/installation
Programme/project management, help desk & support services
Zetes is recommended in Gartners' '2016 Market Guide for Supply Chain Visibility'
How do we manage a supply chain visibility project with you?
Our approach to helping our clients is tailored to your specific requirements but will typically include:
Workshops designed to map critical stakeholder requirements.
A full review of end-to-end supply chain visibility processes and gap analysis of supply chain stakeholder processes.
Selection of appropriate data capture technologies including barcode, RFID, machine vision and IoT sensors.
Supplier on-boarding programmes.
Full implementation, testing and support.
Related articles
No time to waste | The 10 must-haves in a supply chain visibility partner | Chain reaction | Supply chain blindspots | Demands and Supply