Quick and accurate truck loading with palletisation software
Our ZetesMedea palletisation software provides you with an automated and efficient way of controlling your vehicle loading . This helps you overcome the following challenges:
Incorrect pallets, roll-cages, or crates being loaded
Too many or too few handling units being loaded
Lack of visual proof of condition for customer claims
Handling units 'disappearing' on the road
Labour intensive and time-consuming processes
How does it work?
Our palletisation software is an advanced camera-based solution that makes use of our patented ImageID vision technology. A camera is positioned at your dock door to capture images of every pallet, roll carrier or crate being loaded on to your vehicles. It instantly detects and validates barcode data and triggers a go or no-go alert for the loading operator. This prevents incorrect carriers from being loaded and trucks leaving with incomplete shipments.
Since we started using the system, there have been no loading errors whatsoever, because the system alerts us when a driver is trying to load the wrong pallets onto their truck.
Henrik Rosendahl Laursen, Warehouse and Distribution Consultant, Danfoss - Read the case study
Four key benefits of our palletisation software

Faster loading
Using an automated process this takes away any manual effort and control which speeds up the work. You can have various operators loading the same vehicle and our motion barcode detectors will not impact their efficiency.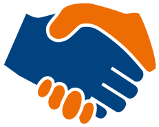 Fewer customer claims and disputes
The image capture feature provides visual time-stamped proof of the load and condition of your products. Images are stored in a cloud based image bank that can be shared with your customers providing full traceability of the pallet loading process.

100% accuracy control rate
Every pallet is checked at the vehicle door and access to the truck is given based on the barcode information on the pallet label.

Simplified pallet loading
No operator training is required as the software is completely automated. A go or no-go signal stops operators accessing the truck with the wrong pallet.