250,000
Users of Zetes voice solutions in EMEA
2,000
Distribution centers equipped
Improve accuracy & productivity
You can improve accuracy, productivity and efficiency throughout your warehouse with the ZetesMedea voice picking system. It's a multi-purpose solution that's been designed to help you optimise your warehouse fulfilment. ZetesMedea Voice works with a wide range of warehouse technology and devices and integrates with your current Warehouse Management System (WMS) or Enterprise Resource Planning (ERP). Our voice picking system gives you the speed and efficiency you need to handle complex omni-channel and click and collect operations.
Maximum operational flexibility and performance
With ZetesMedea Voice, you will see the following benefits:
A productivity increase of 25% to 35%.
Accuracy rates of 99.9% and above.
Fantastic process optimisation including order picking, cross-docking, inventory, pick & pack, put-away, replenishment and quality control.
Minimal training time which is ideal for peak seasonal periods. 
One device for multiple processes.
You can combine voice picking with scanning, RFID or screen-based support.
Seamless integration with any ERP or WMS, including SAP.
Discover other benefits of our voice picking system and see it at work.
"Thanks to Zetes Medea Voice, pick error rates were reduced by 60% and picking performance has improved by 15-20%."
Reinhard Gräffe, Site Manager, Norma - Read the case study
More than just voice picking
Experience has shown us that no two business processes are the same. ZetesMedea Voice helps improve your warehouse fulfilment beyond traditional 'voice picking' or 'pick by voice'. This includes
In the distribution centre
for receiving, put-away, replenishment, transfers, cycle-counting, shipping and put-to-store.
In the store
for stock counting or click and collect order picking.
Out in the field

to assist-by-voice your repair staff.
In any other process
where efficient, hands free working is required.
Save time on operator training
Voice picking shortens operator training time as it is so easy to use. Operators will be guided through their tasks with simple dialogue. With our voice picking solution you save up to 25 minutes training time per operator. This is ideal for environments with a lot of seasonal workers. 
"The new terminals are used with Zetes' untrained voice solution. Because of seasonal variations, many pickers are temporary employees who can be fully productive immediately because we don't need to register their voices with the new system. We save a lot of time on training this way."
Charles Chelayfa, Head of IT Production, Système U - Watch the movie
Combine voice with other technologies and systems
Do you need to scan product barcodes to ensure traceability in your warehouse? With its multimodal approach our system combines voice technology with other interfaces, including scanning or terminal screen displays. 
Our voice picking software runs on all leading hardware manufacturer devices so you can re-allocate your existing devices and save money. We are the main partner in Europe for Zebra, Honeywell (Vocollect) and Datalogic and will advise you on the best-fit voice terminal for your operation. It also integrates with any WMS or ERP system. ZetesMedea Voice will add any logic that your existing system is missing to ensure maximum efficiency and productivity.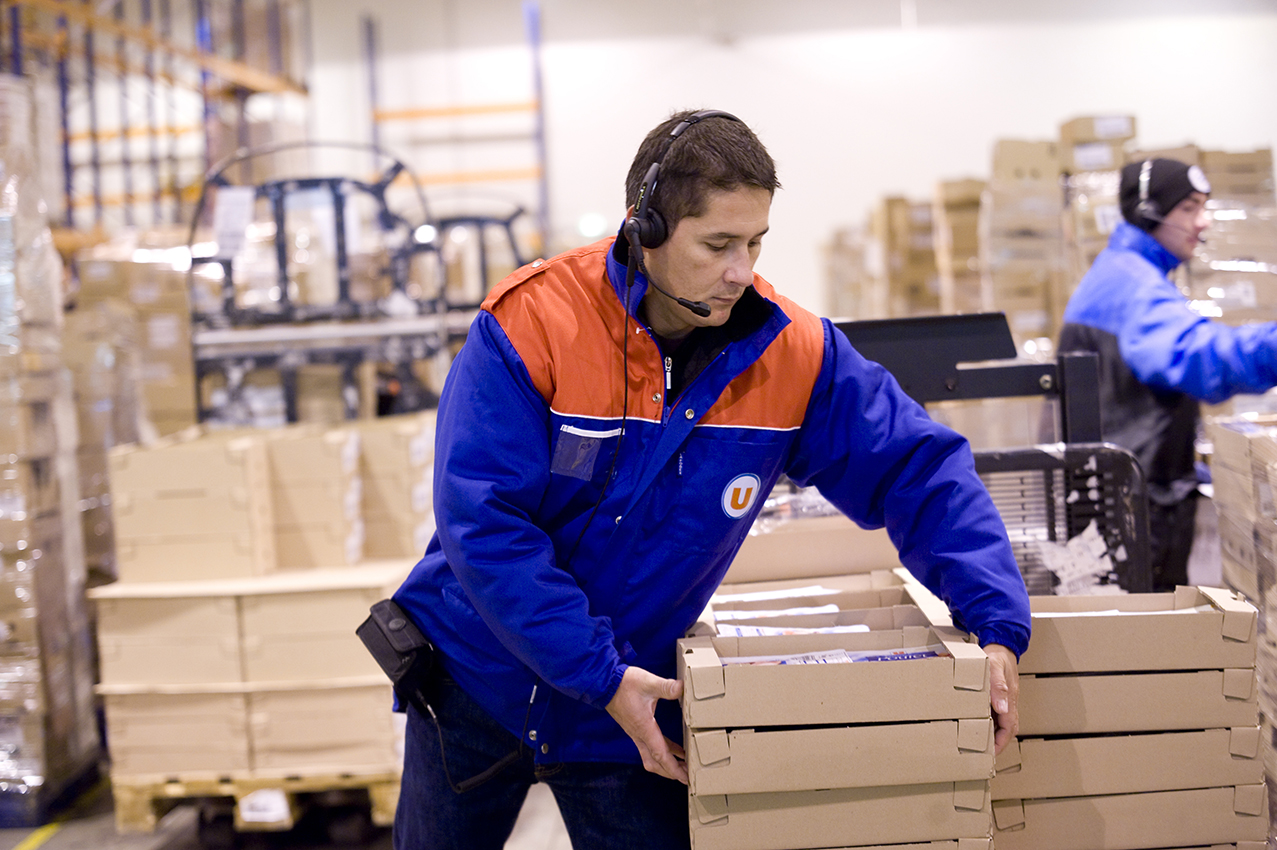 "With a single investment and the same equipment, we can optimise several business processes such as preparation and inventory, but also warehousing and product placement."
Anne Claude Mare, Head of Development & Business Research, CERP Rouen - Watch the movie
Why use voice picking? 
When equipped with a mobile voice terminal and headset, worker's complete tasks quicker and with fewer errors as our solution tells them where to go and what to do. Working hands-and-eyes free also reduces drops and spills and increases worker satisfaction through better ergonomics. Site supervisors can track & analyse progress and reallocate resources where needed. It also helps avoid incorrect shipments and costly credit notes. Discover other benefits of our voice picking system and see it at work. 
Security and peace of mind
Cloud-based or on-site
Our solution can run on your premises or be cloud-based. Managing your voice system in the cloud removes the worry of keeping in-house servers up and running. As there is no need to handle computing issues, your IT team can concentrate on its core business. 
Proven by 250.000 users
We are considered a trusted advisor by over 250,000 mobile workers, and our solution is implemented in more than 2,500 distribution centres. We have voice picking specialists in more than 30 offices throughout 20 countries in EMEA. Check out our references below and learn how we can help your business. 
Flexible service and support
We offer flexible service and maintenance programs to keep your installations running. You will benefit from hot desk support, software license maintenance, upgrades, repair and support. Operating locally, our voice experts will provide a quick response to keep your operation running smoothly.
"From the first steps in our collaboration, Zetes has been a partner that listens to our needs and tries to bring us the solution that best fits our requirements. We have been extremely satisfied with the service provided and the positive results in terms of accuracy and productivity."
Valerio Cortese, Information Systems Director, Gruppo Iper - Read the case study