Continental
Objective
---
Automate goods receipt processes to improve productivity and accuracy
Implementation having minimal disruption on operations
Solution
---
Machine vision technology with ZetesMedea Image ID
Result
---
1 minute saved per scanned pallet
20 to 25 percent productivity increase
Higher transparency and more secure processes thanks to automated data comparison
Higher employee satisfaction
In combination with ZetesMedea, the camera-based ImageID gate automates parts of Continental's goods receipt process, bringing Industry 4.0 a lot closer. The ZetesMedea ImageID solution is based on Zetes' patented automated machine vision technology.
It's a market with a bright future: today's cars are being equipped with more and more sensors that can observe their surroundings and considerably increase driving safety. This enables the recognition of traffic signs and autonomous driving amongst other benefits. Such digital assistants are developed and manufactured by Continental's subsidiary Conti Temic microelectronic. One of the manufacturing sites is located in Ingolstadt.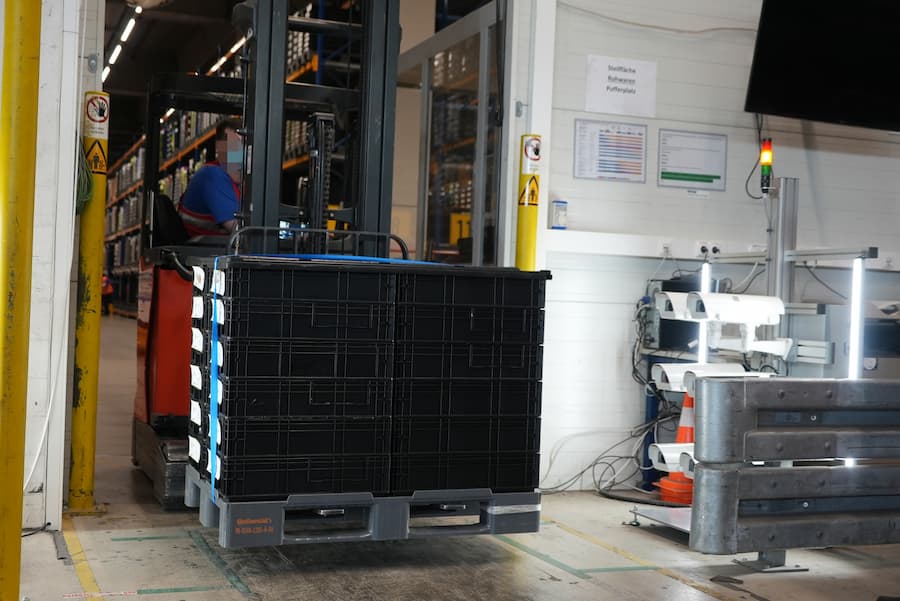 Focus on Industry 4.0
In light of the corporate migration towards Industry 4.0, digitalisation and automation play a major role. Potential improvements along the internal goods movement path are specifically identified and used at Continental. This also puts the goods receipt process in special focus. In Ingolstadt, large quantities of pallets are received every day, with up to 60 boxes stacked on each pallet. Each box has a single mat label with a 2D barcode that must be scanned and then compared with the inbound deliveries in SAP.
"This process was previously performed manually with a handheld scanner, which involved a lot of effort and took several minutes per pallet", recalls Alexander Lamotte, Supply Chain Specialist at Continental Automotive Technologies. If a label turned out to be defective, the label had to be reprinted and all the barcodes had to be scanned again. "We wanted to automate this process, so we were looking for suitable solutions and providers", says Lamotte.
Professional approach
After many conversations, the best solution was narrowed down to the Zetes-designed, camera-based ImageID gate for pallet capture, interfacing with the ZetesMedea warehouse execution system (WES). "We were impressed by Zetes' technology as well as their professional approach", comments Monika Fuchs, Team Lead Goods Receipt at plant Ingolstadt. This impression was confirmed in the project and implementation phase, which was completed in June 2021.
User-friendly interface
Since then, the goods receipt process at plant Ingolstadt works as follows: on receipt goods, the pallets are first unloaded from the truck by a forklift and then transported to the ZetesMedea ImageID gate. It is located directly at the door separating the goods receipt from the warehouse area. The Zetes ImageID cameras are installed on the gate to the left and right to capture images of every pallet prior to access the warehouse. They instantly decode and verify the pallet barcode labels and trigger a go/no go signal for the operator. The other components include a traffic light and a mobile workstation with a mobile scanner, label printer and monitor. The monitor displays the user-friendly, web based ZetesMedea user interface (Web UI).
"The Zetes Medea ImageID gate is a further step towards an automated future. With this technology, we can work faster in goods receipt with higher quality", says Andreas Dinzinger, Head of SCM Warehouse and Shipping at Ingolstadt.
Saving valuable time
The scanning process starts as soon as the forklift driver sets the pallet down between the two camera tripods. It is completed in just a few seconds, as confirmed by the graphically visualised results on the monitor and a green traffic light. At the same time, Zetes ImageID opens the fast-acting door to the warehouse so the goods can be put away. Then the label printer automatically generates a Sum label with SAP. After this is stuck on the pallet, it is ready for putting away. "Previously we had to generate the Sum labels manually, which also cost valuable time", says Monika Fuchs.
If some barcodes are not recognised during the scanning process, for example because they are damaged or covered, the employee is immediately notified via an optical warning with the traffic light as well as via the web user interface (WEB UI). In these cases, the barcodes are highlighted in the pallet image displayed on the Web UI. This provides a visual notification to the operator, who can directly capture the missing data with the handheld scanner without spending valuable time searching. Once this process is completed, the pallet is ready for putting away.
Real-time SAP comparison
A yellow traffic light indicates to the warehouse operator that some data is missing, while a red traffic light indicates a general error. In this case the pallet must be set aside. This can happen, for example, if there is no order yet for the pallet. During the scanning process, ZetesMedea not only reads the label data but also shares them in real time with a web service that compares the label data with the inbound delivery. The goods receipt is automatically posted in SAP.
Continental is more than satisfied with the new goods receiving process. "The ZetesMedea ImageID Gate saves us a significant amount of time for each pallet put away. The effect is 1 minute per pallet," explains Alexander Lamotte. Each day, the time savings in goods receipt adds up.. The return on investment is expected to be less than two years.
"The ZetesMedea ImageID Gate saves us a significant amount of time for each pallet that we put away. The effect is 1 minute per pallet."

Alexander Lamotte, Supply Chain Analyst, Continental Automotive Technologies GmbH
Different processes
Continental expects an even shorter payback time with the second Image ID gate installation in Groß-Rohrheim (South Hessen). There, Continental operates a central logistics centre for passenger vehicle spare parts, with an area of 34,000 square metres. It is run by a 3PL. "As the processes differ slightly from the Ingolstadt location, we chose Groß-Rohrheim as another pilot project location", explains Lamotte, who was also in charge of this project.
In contrast to Ingolstadt, in Groß-Rohrheim not 2D but 1D barcodes are captured. The module size of the barcodes also differs. Another difference is the reading distance between the pallet and the camera. Here, ZetesMedea ImageID can show its great flexibility and cover reading distances of up to several metres. In this way, Zetes can ensure that all barcodes are detected within a freely definable reading range, which in practice means that reading fields of several square metres can be achieved. The solution developed by Zetes is also extremely flexible in this respect.
After the first two installations, Continental will implement further ZetesMedea ImageID Gates in the USA and Lithuania.
About Continental
Continental develops pioneering technologies and services for sustainable and connected mobility of people and their goods. Founded in 1871, the technology company offers safe, efficient, intelligent and affordable solutions for vehicles, machines, traffic and transportation. In 2021, Continental generated sales of €33.8 billion and currently employs more than 190,000 people in 58 countries and markets. On October 8, 2021, the company celebrated its 150th anniversary.
Conti Temic microelectronic is a Continental Group company. It develops and manufactures electronic modules for the automotive industry. The Ingolstadt location has 2,000 employees, including 72 trainees.
For more information visit www.continental.com.