Augustin Group
Spare parts logistics: Using ZetesMedea, the Augustin Group has digitalised processes between goods receiving and goods dispatching to increase productivity, inventory reliability and transparency.
Researching for spare parts for older vehicles can quickly become along and fruitless journey. Most manufacturers discontinue normal supply of stub axles, shock absorbers, exterior mirrors, etc. around 15 years after the end of production of a specific model. In this field, the Augustin Group has established a position as a leading supplier for customers of the Fiat Chrysler Group. The owner-operated company with headquarters in Handewitt near the German-Danish border can supply approximately 400,000 parts for current and vintage passenger cars and utility vehicles.
Rapid growth
The company has grown very quickly as a result of the e-commerce boom and the expansion of Fiat Chrysler. Sales have risen by 30% per year in the last two years alone, pushing logistics processes to the limits of their capacity in 2017. At that time most activities in this area were still paper-based. Delivery slips were checked off item by item, parts were put into inventory without a scanner, and order pickers worked with printed order sheets. Using this system, six employees in goods receiving had to process five to ten trucks every day, while up to twelve order pickers had to handle 700 to 800 orders. Even then it was evident that this figure would rise to as much as 1500 orders per day in the coming years.
In light of this, Augustin decided in 2017 to introduce a Warehouse Execution System (WES) intended to exchange order and inventory data with their in-house ERP system and to control and digitalise all processes between goods receiving and dispatching. After a detailed market analysis and various meetings with potential vendors, they opted for they opted for ZetesMedea, a logistics execution solution to enhance warehouse operations.
"Zetes was the only vendor that was able and willing to address our individual requirements and processes", explains IT Specialist Marc Berlau, who was very impressed by the cooperation with Zetes during the planning phase. "Only a few meetings were necessary, and we felt that Zetes understood us very well."
Short training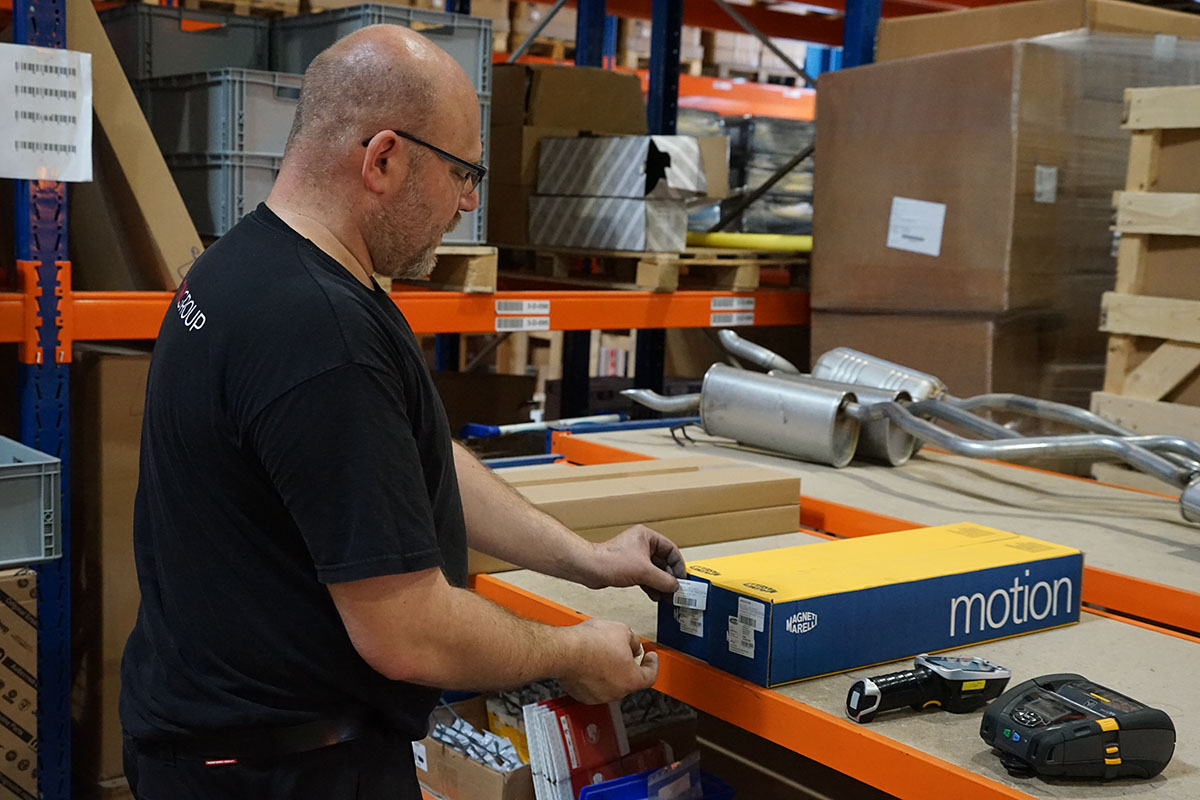 After just five months, ZetesMedea was rolled out at the Augustin Group in April 2018. As part of this process, the warehouse employees were equipped with handheld terminals and mobile printers from Zebra. Now the displays of the handheld terminals guide the users step by step through each process, which can be selected and started using the touch-sensitive screen. The ZetesMedea menu navigation is very intuitive, so even new employees can learn to use it quickly and be deployed in the warehouse with very limited training.
In goods receiving, one barcode on the delivery slip or the pallet is scanned so that ZetesMedea can send the input data to the merchandising system. There the barcode is linked to an existing order and fed back to ZetesMedea.
Matching warehouse locations and items
With a large number of identical items, only the outer packages are labelled and then transported to one of the warehouse locations proposed by ZetesMedea. "All processes in goods receiving could be mapped in ZetesMedea, resulting in a 300% increase in productivity", says Weger.
All processes in goods receiving could be mapped in ZetesMedea, resulting in a 300% increase in productivity. Daniel Weger, Purchasing, Augustin Group
ZetesMedea also supports the transfer of items from goods receiving to the warehouse location. After the item barcode is scanned, the program proposes a warehouse location, which the employee usually accepts and confirms by scanning the barcode at the shelf location. "If necessary, the merchandise can also be taken to another unoccupied warehouse location, which of course also has to be scanned", explains Berlau. By matching warehouse locations with items, users always know which items are present at which location and how many there are.
SOS for colleague assistance
There is also a distinction in the next step between processing a single order or processing multiple orders in parallel (multi-order picking). The closer it gets to the departure time, the more often order pickers are guided to process a single order to ensure that it will be ready on time. "Here as well, ZetesMedea offers us maximum flexibility with the selection options", emphasises Berlau. Further flexibility is provided by the SOS button, here pickers can press this button directly on their handheld terminal to ask for help from their colleagues when a deadline is at risk.
Although the SOS button is rarely used, it helps to ensure delivery quality. Thanks to ZetesMedea, on time fulfilment is already at a high level. "With the clearly structured and seamlessly documented procedure, the error rate in order picking is virtually zero", emphasizes Weger. This makes it possible to dispense with an additional check scan at the packing station. In the past, the pick and pack lists had to be checked off again by the employee concerned. "Eliminating the check at the packing station gives us enormous time savings", summarises Berlau.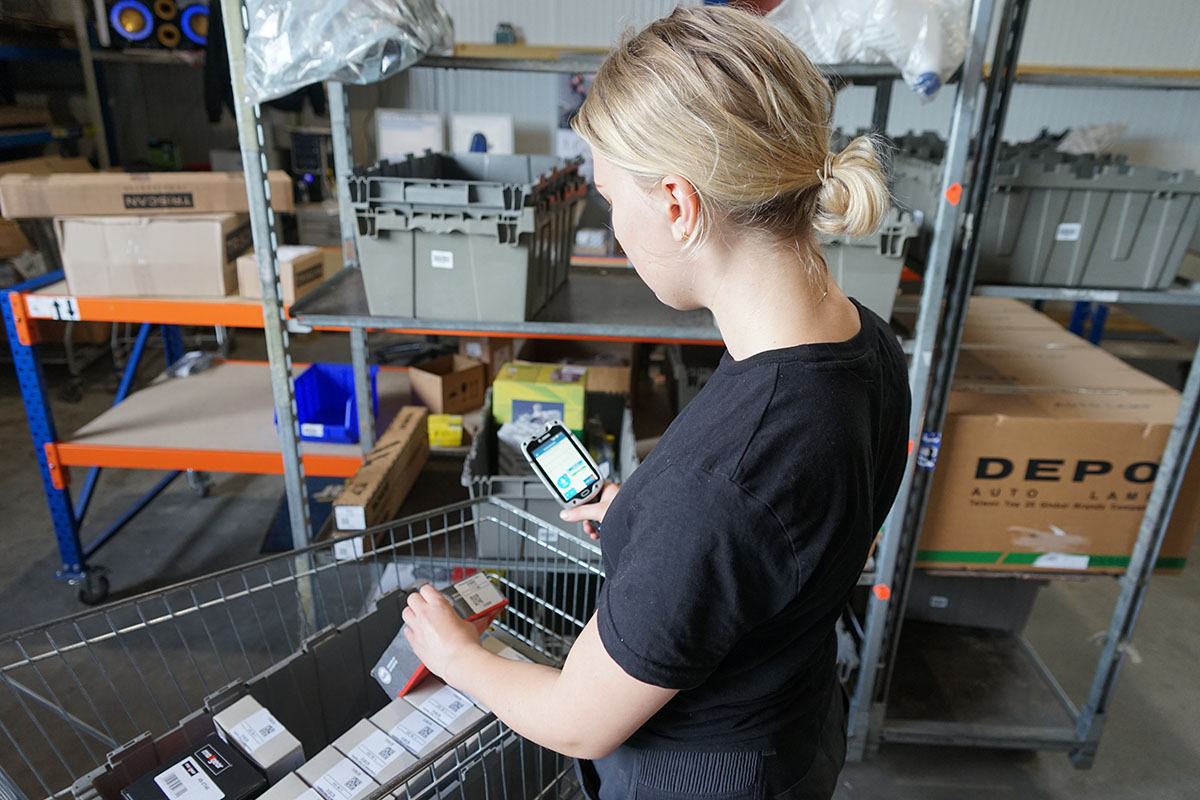 Integrated inventory
Changing the inventory checking procedure yielded further savings and quality improvements. "In the past, wall-to-wall counting kept 50 employees busy for an entire day, and sometimes there were miscounts during the back-and forth registration of the 40,000 or so items, resulting in inventory errors", according to Berlau. With ZetesMedea they were able to change to permanent cycle counting.
Conclusion: Using ZetesMedea, the Augustin Group has digitalised all processes between good receiving and goods dispatching, making them significantly more productive, transparent and reliable.