Gütermann GmbH
Objective
---
Digitalisation of manual processes in a company that exists for almost 160 years in the finished goods warehouse
High demands on stock accuracy
Solution
---
ZetesMedea Logistics Execution Solution
Result
---
50% less staff effort for inventory
Considerable time savings
Reliable processes thanks to automatic data verification
Higher employee satisfaction
Scalabilty for further digitalization
A&E Gütermann, a company rich in tradition, is using ZetesMedea for phased digitalisation of critical processes in its finished goods warehouse. After conversion of inventory and stock entry, other areas are planned to follow.
In the elongated warehouses of A&E Gütermann at the company's headquarters in Gutach-Breisgau, the almost 160-year history of the world's leading manufacturer of sewing threads can be felt at every step. The interiors of the sawtooth-roofed buildings are dominated by long rows of manually serviced shelving racks. The finished goods warehouse has an area of 12,500 square metres and houses 91,000 stock locations for 70,000 different products. Some 60 employees handle goods movements in the warehouse, primarily still using paper documents, and access stock locations 10 to 15,000 times every day.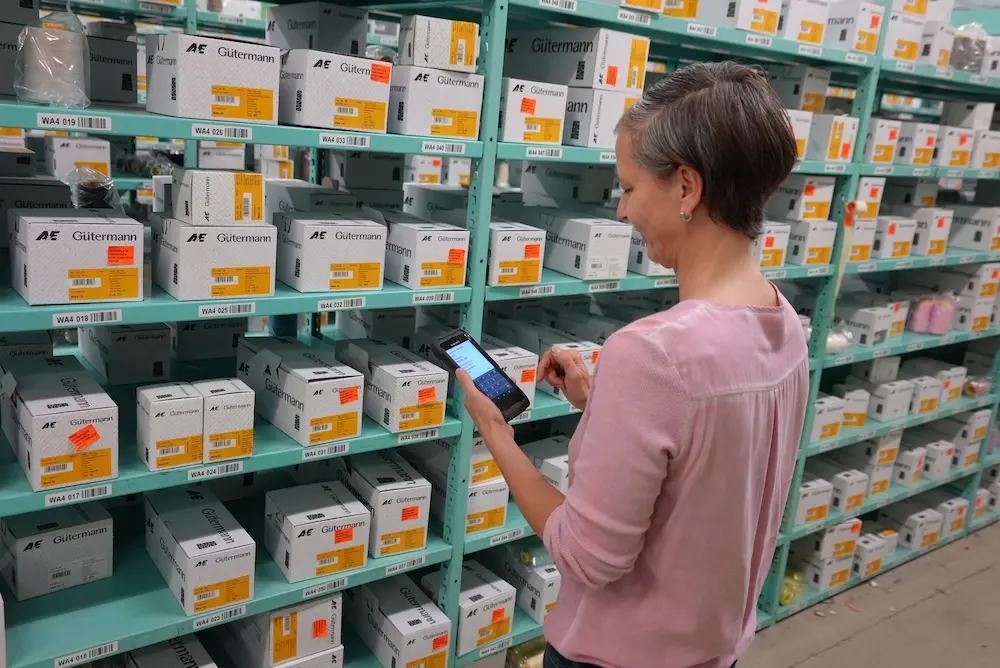 Major potential with ZetesMedea
Just as elsewhere, processes at A&E Gütermann are being digitalised one by one. For this they started looking for a suitable IT partner in 2021. "Via LinkedIn I learned about Zetes, which offers a free warehouse check", recalls project manager Oliver Maier, who is also Deputy Warehouse Manager at A&E Gütermann. At the first meeting in November, the potential of various optimisation steps with the ZetesMedea Warehouse Execution System was demonstrated.
"That wasn't a sales pitch, but instead a very solution-oriented consultation meeting", says Maier. "We noticed right away that we were on the same wavelength as Zetes and were discussing things as equals", reports department manager Frank Krause. The ZetesMedea solution also made a good impression. "ZetesMedea allows us to digitalise our processes in several steps without taking any large risks", confirms Christoph Kern, who is providing IT support for the project. Kern is responsible for the interfaces between ZetesMedea and the SAP R3 ERP system deployed at A&E Gütermann.
Digitalising inventory
Of all the processes between goods receiving, picking and shipping, the continuous inventory process was the most suitable to illustrate the advantages of digitalisation to the initially sceptical logistics team. All stock items must be counted at least once a year. To achieve this goal, on average 360 items per day must be counted for inventory. On some days as many as 4,000 items are counted.
This was previously done by two-person teams, who recorded the stock levels of individual locations with pencil and paper during off-peak times. "One person counted, and the other wrote down the numbers and checked them", says Michael Reichenbach, responsible for defining the warehouse locations of individual inventory runs at A&E Gütermann. For this he pays particular attention to avoiding interference to ongoing stock entries and removals by inventory activities. He uses SAP to generate the inventory lists.
Simplifying everyday work
Previously the lists were printed out and handed out to the employees. Now they are sent digitally to ZetesMedea. At Gütermann, ZetesMedea operates not only as a cloud solution, but also as an app on the 15 new Honeywell CT45XP mobile computers. They run the Android 11 operating system, with updates up to version 13 guaranteed by Honeywell. An integrated 2D imager enables direct data capture; A&E Gütermann chose the FlexRange option for this. "The FlexRange scanner allows our employees to capture barcodes not only at close range but also at distances up to 10 metres, making their everyday work a lot easier", says Maier.
To start an inventory count, the employee must first log in to the CT45XP. For this they scan their personal barcode. Then the inventory function can be selected directly from the start screen to start the process. Now this can be done quickly by a single employee because the time-consuming paper lists are no longer necessary. "This allows us to reduce our paper consumption by around 30,000 sheets per year, and at the same time cut our staff effort in half for carrying out inventory", comments warehouse manager Krause.
Direct entry checking
On a large 5-inch display, the employee can see which stock location they should go to and what unit is involved. Depending on the product, A&E Gütermann calculates in metres, rolls, pieces, cartons, packages or kilograms. At the stock location, the employee scans the barcode of the respective bin and then ZetesMedea checks that the location is correct. After the items are counted, the quantity is entered on the CT45XP and again checked.
"Any deviations from the stock level booked in SAP can be seen right away and are immediately shown to the employee as a notification on the screen", explains IT expert Kern. If this happens, the count result must be checked again. "In total this has resulted in significantly better stock quality, which our auditors have confirmed for us", reports Reichenbach, who was able to complete the inventory much earlier than usual in the first year with ZetesMedea.
Fast familiarisation and cloud
Automatic archiving is another positive effect of the digital inventory process with ZetesMedea. Previously the records had to be placed in a folder and kept for 10 years, but now this is done reliably and unobtrusively in the cloud. Among other things, this allows new employees to get up to speed faster because the instructions from ZetesMedea on the mobile computer displays are clear and easy to understand.
With its cloud-based web portal, ZetesMedea additionally gives A&E Gütermann a live overview of all current orders and their status, as well as the ability to assign and prioritise orders.
Along with the many advantages of digitalisation with ZetesMedea, A&E Gütermann also benefited from smooth project execution. "The inventory conversion project was completed within just four months, and we expect it to pay for itself in the coming year", sums up Maier.
Immediate feedback
It's hardly surprising that A&E Gütermann has already converted the next process to ZetesMedea: stock entry of approximately 1,400 stock items with a total weight of 13 tonnes per day on average. There the company expects similar positive effects and, above all, error-free operation. "Thanks to ZetesMedea and immediate feedback to employees on the display, we will be able to completely avoid stock entry errors", expects Maier, who is already thinking about the digitalization of other areas.
"Thanks to ZetesMedea and immediate feedback to employees on the display, we are able to completely avoid stock entry errors." Oliver Maier, Project Manager Logistics, Gütermann GmbH.
About Gütermann GmbH
Gütermann GmbH (public presence A&E Gütermann), with headquarters in Gutach-Breisgau in South Baden, is a leading sewing threads manufacturer with worldwide operations and a long, tradition-rich history. The company was established in 1864 by Max Gütermann and was once the world's largest silk thread factory. The company is now part of the US corporation Elevate Textiles, Inc. The operational business is divided into the sectors: Consumer,Industry and Automotive. In the Consumer sector, A&E Gütermann focuses on end users with its sewing threads and related products, such as beads and sequins, fabrics, and a variety of sewing accessories. In the Industry sector, A&E Gütermann develops bespoke apparel and non-apparel solutions in cooperation with business customers. With approximately 380 employees, the company achieved an annual turnover of EUR 74 million in 2021 (source: Wikipedia). For more information visit www.guetermann.de.