Brussels, 5 November 2013 -  Zetes was quick to recognise the need for efficient cooperation between supply chain stakeholders, in particular with respect to delivering quality and traceability, ensuring consumer protection and enabling anti-counterfeiting of brands and products. To answer these challenges, Zetes Group is deploying its Collaborative Supply Chain Suite across the EMEA region. The set of 6 standard and comprehensive solutions allows companies to boost the performance of specific processes while achieving end-to-end traceability.
The Collaborative Supply Chain Suite consists of the following solutions: ZetesAtlas, ZetesMedea, ZetesAres, ZetesChronos and ZetesAthena, each of which addresses the specific needs of a segment in the supply chain - from packaging lines through to the store. Acting as a layer at the top of Zetes' solution suite is ZetesOlympus, which provides a unified data repository that can interface with different sources of information, including the above mentioned solutions and make this data available to various supply chain stakeholders.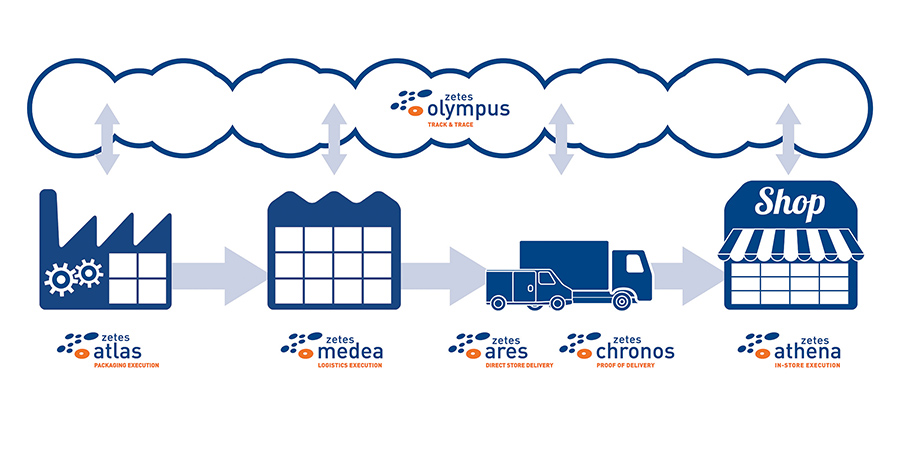 "Our customers expect us to have an answer to a range of different problems, such as: how can I avoid costly mistakes at the loading dock, how can I track containers within my company, between my site and that of my suppliers, how can my central IT department distribute store apps to 500 subsidiaries efficiently and inexpensively?" explains Juan José Martinez,  head of the Goods ID division. At the same time, they are faced with the need for enhanced traceability right along the supply chain, which involves collaborating with many other companies.

"Zetes' definition of a collaborative supply chain is a supply chain that supports process optimisation and end-to-end traceability. Each customer gets a solution that meets his specific requirements but, at the same time, allows critical information between supply chain partners - whether providers or customers - to be exchanged. A collaborative supply chain enables stakeholders to fight efficiently against pressing challenges such as counterfeiting and parallel markets and ensure greater consumer safety, as it enables more efficient recalls/returns management. We believe that an efficient collaborative supply chain should be enabled by a straightforward and standard approach that answers customers' very complex challenges. What we offer them is a clean, coherent and standardised approach with a bird's eye view."  
The Collaborative Supply Chain solutions
ZetesAtlas – Product identification and traceability in the packaging line
ZetesAtlas is a packaging execution system (PES) that manages, secures and improves the packaging identification process. Designed to warrant the best possible identification and data-aggregation of products, boxes and pallets, it controls PES components along the packaging line, such as printers, motors and cameras, and ensures multiline-line control and visibility.
ZetesMedea – Process optimisation in the warehouse
ZetesMedea is a logistics execution system that boosts the efficiency of warehouse processes.  It drives cost-effective, error-free process execution and provides real-time visibility, integrating leading data capture technologies such as ImageID and Voice and plugging them into any WMS/ERP system.
ZetesChronos – Full visibility of the delivery process
ZetesChronos is an advanced mobile Proof of Delivery Solution designed to steer all delivery and collection processes. It gives real-time visibility on goods movement and field worker activity, from loading of the goods to delivery and pick-up, and ensures traceability throughout the entire delivery fulfillment process.
ZetesAres – Increased sales through direct store delivery
ZetesAres is a comprehensive solution for Direct Store Delivery, designed to help retainers increase sales through improved customer management. Encompassing orders, sales, delivery, asset management and maintenance, it turns sales personnel into highly efficient, trusted advisors that sell the right product at the right place at the right time.
ZetesAthena – Intelligent in-store management
ZetesAthena is a comprehensive solution for the creation, storage and cloud-based deployment of in-store management applications. Functionality includes: receiving till inventory, re-pricing, replenishment, accessing product information, click & collect, with applications managed centrally and easily, without the need for high capital investment.
ZetesOlympus – unbroken traceability from production to consumer
ZetesOlympus is the central component of Zetes' Collaborative Supply Chain Suite. Acting as a unified repository of data, it can interface with different sources of information, across the enterprise and beyond, enabling to establish at all times what has happened, when, where and by whom.
Managed Services including rental option
Through its managed service model, Zetes also offers customers the opportunity to purchase the solutions of its Collaborative Supply Chain Suite on a monthly rental basis. This provides the desired process, and necessary hardware and software combined with a full maintenance service and, once the contract expires, recovery of the entire solution. This approach offers customers the advantage of having a clear forecast of costs, as well as the flexibility to adapt the service to suite their changing needs, by adding or removing users/hardware whenever necessary.
Cloud-based, centralised management & deployment
Another big advantage Zetes offers today's cash and time strapped customers is cloud-based, centralised management of their applications. Through the MCLTM Mobility Platform, customers managing multiple sites, even in multiple countries, can easily and centrally manage and deploy applications and equipment without the need for expensive IT infrastructure and regardless of operating systems used.
- END -