Malmö (Sweden), 12 October 2021 – PostNord TPL AB – the market-leading third-party logistics player in Sweden and in the Nordic region – signs an extensive multi-solution project with supply chain technology company Zetes. PostNord TPL invested in two modules of the ZetesMedea logistics execution solution, that will help enhance operational efficiency and bring more innovation into their warehouse operations.
PostNord TPL is a branch of PostNord Sverige AB, the leading parcel and logistics company with services to, from and within the Nordic region. In 2020, PostNord TPL had sales of approximately SEK 2.5 billion and employed approximately 2,200 people. The total storage area that they have at their disposal is about 660,000 square meters.
Flexibility and enhanced visibility
PostNord TPL is expanding its warehousing operations on behalf of one of Europe´s leading hardware retailers. Goods that go to all their stores in Sweden and Norway will be stored, managed and distributed from the 90,000 square meter new facility in Norrköping. For this reason, PostNord TPL was seeking a warehouse execution system that manages, optimises and directs picking and other processes in a warehouse. They opted for two modules of the ZetesMedea portfolio ZetesMedea Voice to increase order picking productivity and ZetesMedea Loading Verification, to control and manage outbound logistics more efficiently.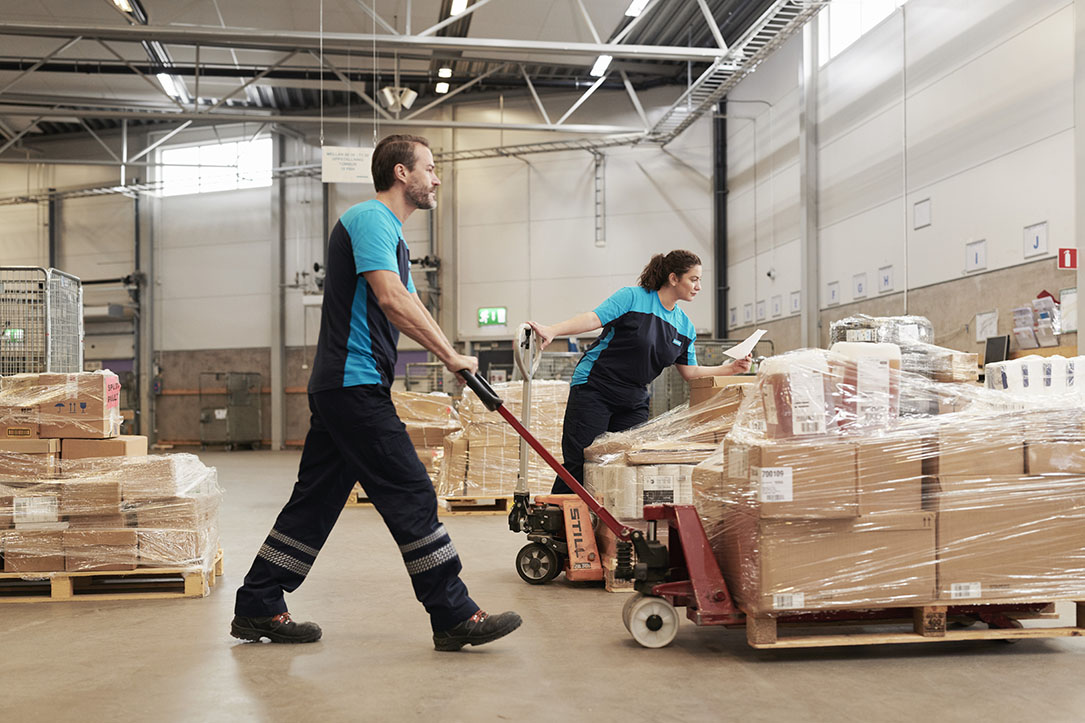 Achieve 100% visibility through the shipment process
Even one percent error in shipping accuracy impacts the business significantly. Handling each fault costs time and money, while affecting customer satisfaction and operations performance. To achieve 100% visibility on shipments, PostNord TPL opted for Zetes' automated loading verification solution powered by ImageID technology. An innovative solution that optimises outbound logistics efficiency using advanced camera-based technology to control and ensure 100% shipping accuracy.
With cameras installed at all 35 dock door stations of the Norrköping facility, the system will instantly detect and analyse all pallet labels before goods are loaded on the truck. This triggers a go/no go signal, preventing operators from loading the wrong items on the wrong vehicle. With this automated solution, PostNord TPL can eliminate human errors, while several operators can simultaneously load the same truck to increase productivity and save time.
Visual proof of load and condition
In addition, the ZetesMedea system enables PostNord TPL to gain visual proof of load and condition of each shipments. This way, they can verify exactly what has been dispatched, at what time and in which condition. The photo evidence is then stored in an image bank and can be retrieved easily in case of questions or customer dispute.
Next generation voice picking
PostNord TPL will also implement ZetesMedea Voice, a leading voice-directed system, to improve order picking quality and to maintain the highest data accuracy. With more than 80 warehouse operators, the voice-guided workflows simply directs the operators to the right product and tells them which quantity is required. This approach will help Postnord TPL to improve the execution of order picking tasks, while minimising the chance of errors occurring in the warehouse. Working hands-free also helps to reduce drops and spills and increases worker satisfaction through better ergonomics.
"We are proud that PostNord TPL have chosen to partner with us to enhance their warehouse processes. It is a strong commitment from both sides that show how Zetes solutions can play a role for all sizes of organisations. We can already now see new potential projects within PostNord TPL and are looking forward to a long and fruitful partnership." Håkan Hammar, Country Manager at Zetes Sweden.
"We have selected Zetes as a partner as they are an international player that provides innovative and flexible solutions for control and efficiency throughout the supply chain. By investing in their Voice and ImageID technology with the ZetesMedea platform, it will enable us to achieve high levels of productivity and quality across our warehouse processes." Mikael Engberg, Logistics Development Manager at PostNord TPL.