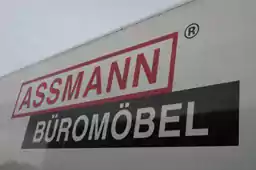 Assmann Büromöbel
Voice picking enabled Assmann Büromöbel to increase productivity by 20% and reduce the error rate to 0%. Increased execution efficiency streamlined stock management and enables integration of temporary workers. ROI was achieved in less than 24 months.
Objective:
Reduce picking errors
Increase picking performance
Enable the integration of temporary workers
Reduce costly delays in the assembly
Reduce incorrect stock inventories
Solution:
ZetesMedea Voice, powered by MCL™ Voice
7 Zebra W41 terminals and 15 headsets
Result:
0 picking errors
Increased productivity by 20%: from 120 to 143 orders per hour
Reduction of the training period
Full ROI achieved in less than 24 months
The picking of furniture parts is crucial for Assmann Büromöbel. Every day, two shifts of up to seven pickers pick around 4 500 individual parts, which are then assembled into desks, storage space concepts, docking* and partition** systems or reception furniture. On average, a piece of office furniture at Assmann consists of ten parts, including doors, side panels etc.
The picking process of the wooden furniture parts used to be done via paper pick lists the day before the assembly, which often resulted in errors. "These picking errors led to costly delays in the assembly and incorrect stock inventories," says Uwe Bahr, Information Technology and Organisation Development Manager at Assmann Büromöbel. Another problem was the steep learning curve for the 15 colleagues who regularly work as temporary order pickers. "Due to the large variety of items to pick and the lack of location reporting on the pick lists, the employees had to get to know the warehouse very well," emphasises IT Coordinator Peter König-Slickers.
Starting without voice profile
Assmann looked for a new order picking system that would guide even new employees quickly and faultlessly through the order picking process. On top, Assmann aimed to increase the picking performance. "It was clear to us that voice picking was best suited to meet this goal," explains Bahr. After an analysis of various providers, a decision was made in favour of the ZetesMedea Voice solution, powered by MCL™ Voice. "From the start, we felt reassured by the competence and expertise of Zetes," says König-Slickers, who was responsible for the introduction of Pick by Voice as the project manager.
"ZetesMedea Voice is intuitive to use and works operator independent. There is no need for creating an individual voice profile for each picker, which reduces the training period", says König-Slickers. Another advantage of the solution was the easy integration with Assman's manufacturing management system "Profile Systems". On top of the software, Assmann invested in 7 Zebra W41 terminals and 15 headsets.
Reduced Stock
First of all Zetes held a two-day workshop to work out the detailed specifications including the voice dialogues. The ten participants included the Production and IT managers, the chairman of the works council and two pickers. The workshop provided many ideas and proposals for process improvement, which were implemented in the course of the project.
Business process optimisation: instead of preparing orders on the day before assembly, this is now triggered on the date of the assembly. This streamlined the throughput time of each order and reduced stock holding considerably.
Eyes and Hands Free work
Operators that are logged on to the system are directed to the precise picking location and told the quantity to pick. As soon as the picker reaches the location they confirm the location through the shelf barcode check digits; which ensures the employee picks the correct item. After confirming the number of items picked they are directed to the next picking location. "As a result, colleagues can concentrate completely and entirely on their activity and are not distracted by manually ticking off paper lists", confirms König-Slickers. "In addition, the pickers have their eyes and hands free for lifting bulky and heavy items," adds Bahr.
The system also takes into account personal restrictions – for example for lifting heavy items – when assigning orders to the operators.
Further Steps Planned
"Due to these ergonomic advantages, our picking performance has increased by around 20 percent from a previous 120 now to 143 picks per hour. At the same time, the error rate has been lowered to 0 percent. Thanks to the real-time control, picking the wrong furniture parts is practically impossible", says Uwe Bahr.
Since April 2014 ZetesMedea Voice has proven its worth day after day. It has generated a return on investment in less than two years. As a next step, Assmann Büromöbel wants to implement the ZetesMedea voice solution in the picking process of small parts such as hinges and handles, which are now picked by the assembler during manufacture. "Pick by Voice is an integral component of manufacturing in our plant and meets our aim for continuous improvement," plans Bahr.
*All necessary power and data connections are space-saving and ergonomically integrated into the office furniture. Assmann has a patent for this solution and has been awarded with the Reddot.
**Screens, as used in large offices or call centres to dampen the sound.
--
About Assmann Büromöbel GmbH & Co. KG
Assmann Büromöbel GmbH & Co. KG is a traditional, medium-sized family business the roots of which go back to 1939. At the company headquarters in Melle, Assmann develops and produces high quality desks, storage space concepts, docking and partition wall systems, as well as reception furniture. The service goes from individual consultation on professional room planning to supply with our own trucks and assembly on site.
The owner-operated manufacturer already in its third generation is represented in Germany, Great Britain, Switzerland and the Netherlands. A network of over 100 specialist trading partners in Germany and sales partners in France, Belgium, Luxembourg, Poland, Austria, Hungary, Italy, Romania and Russia have provided increasing turnovers in the most important European markets for many years. Every day, around 2 000 items of furniture are produced in Melle. In 2015, Assmann Office Furniture achieved the Oskar Patzelt Foundation's first prize for traditional medium-sized companies. At the same time, the Assmann Office Furniture Applica Docking System was awarded the Red Dot Design Award.
For further information visit www.assmann.de
"Our picking performance has increased by 20 percent to 143 picks per hour. At the same time, the error quota is lowered to 0 percent."
Uwe Bahr, Information Technology & Organisation Development Manager, Assmann Büromöbel