Think big, start small and scale fast
The current challenges faced by global supply chains are unprecedented. They are undergoing a unique and seismic shock, which is hitting both ends – the supply and the demand side. Buyers, suppliers and logistics providers are facing tremendous challenges in keeping goods and services flowing efficiently. Even before the COVID-19 crisis, pan-European research highlighted that 71% of supply chain decision makers agreed that lack of real-time intelligent supply chain visibility was having a negative effect on their business. When major supply chain disruptions hit, this visibility becomes crucial to understanding the impact of the disruption on the rest of the chain so that others in the ecosystem can plan and take action. Just some of the performance and business continuity issues impacted by lack of supply chain intelligence include:
Sub-optimal process management
Inability to alert stakeholders in real-time to delays, variances and errors
Lack of accurate stakeholder performance monitoring and poor stakeholder collaboration
Fluctuating inventory and increased waste in resources such as labour, energy and vehicle utilisation
Increased central resourcing to manage queries and disputes
Reactive communication and decision-making
Inability to initiate continuous improvement planning
In order to keep goods flowing smoothly, intelligent supply chain visibility is essential for informed control, agile management and delivery excellence.
The notion of end-to-end visibility is straightforward: you can only improve what you can see, measure and manage, and its value is undisputed - nearly 90% of European retail decision makers say that investing to improve supply chain visibility is a top priority. However, it's not yet in place for 94% of them, so clearly there are barriers to implementation. These range from lack (or perceived lack) of knowledge, expertise, time and budget or concerns relating to security and risk. It can seem daunting and time-consuming, but intelligent visibility should be seen as a long-term investment. Supply chains are expected to become even more complex and dynamic to meet customer demands over the next few years, therefore a sustainable visibility solution is critical for continual optimisation and improvement.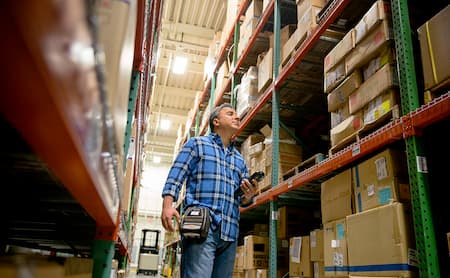 To remain competitive and move towards intelligent supply chain visibility, the approach is to invest wisely at a realistic pace: think big, start small and scale fast. Create a vision of end-to-end visibility solution for your business but implement at a bite-size level. Consider where to prioritise effort to unlock value with immediate gains: research reveals that the top three focus areas over the next two years are:
Real-time visibility of product flow and order fulfilment performance
Increased automation and technology enablement
Greater supplier collaboration
Consider where to prioritise effort to unlock value with immediate gains.
Mapping critical stakeholder requirements, reviewing current supply chain processes and performing a gap analysis will help you strategise. Data capture technology is essential for intelligent visibility and agility but should be selected appropriately. Certain technologies, such as RFID, Bluetooth, barcode scanning technology or IoT sensors will be more relevant than others so it is critical to invest wisely with the help of a technology and supply chain expert to maximise ROI. The good news is that with best-of-breed intelligent visibility software you won't need to re-engineer existing systems. A flexible intelligent visibility layer can integrate with Enterprise Resource Planning systems (ERP), Transport Management Systems (TMS) or Warehouse Management Systems (WMS) to share key data on an intelligent visibility platform and intuitive dashboard.
End-to-end visibility technology enhances your current supply chain systems – rather than replacing them – and will revolutionise your performance results.
Once your initial visibility platform is in place, scale fast. Capitalise on the insight gained to identify the next priority area for your operations, stakeholders and customers. The ultimate goal is a connected and collaborative supply chain with a shared view across the network. Connecting with key partners (of which there can be hundreds) facilitates control over every touchpoint for a harmonised single vision of performance. Using real-time data enables immediate action taking to address errors and re-route or redistribute on the fly. It also enhances dynamic forecasting, and proactive approaches to decision making. An agile, intelligent ecosystem can only be achieved using insight, not hindsight.
Ultimately, if you can't see it, you can't improve it
For profitability, stakeholder collaboration and delivery excellence, intelligent supply chain visibility is crucial. Retail leaders are aware that zero visibility is not sustainable, but a staggering 94% lack appropriate visibility, putting themselves in a vulnerable position as the digital supply chain grows in complexity.  Market leaders have designed intelligent visibility KPIs for all suppliers and continue to harness real-time data to deliver optimal performance. With a tighter, more agile network, you too will be able to ensure that your stakeholders are delivering the excellence you're promising your customers.
The methodology 'think big, start small and scale fast' is a critical approach as it ensures your budget is strategically prioritised without re-engineering your operational systems, benefits include sustainability, brand protection, improved supplier relationships, dynamic forecasting and proven ROI. Intelligent supply chain visibility has been shown to improve customer satisfaction and loyalty by over 30%, and in this service-focused industry who can afford to say no to that?
Implementing intelligent end-to-end supply chain visibility has been a success story for major retailer Marks and Spencer. Working with Zetes, they developed a bespoke platform powered by Zetes' visibility software to transform their fresh food supply chain operation and deliver significant improvements and can now efficiently and optimally manage the network. This user-friendly solution shares unified data across the supplier network and achieves greater collaboration with stakeholders. Find out how they have transformed their performance in this short video.