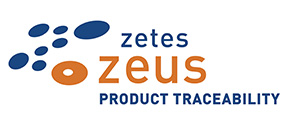 Track and trace what's happening in your supply chain
Protecting your brand and guaranteeing consumer safety is essential for every business. Margin protection, customer satisfaction and regulation are quickly driving the need for you to have greater control and visibility. Our product traceability software ZetesZeus helps leading organisations across EMEA to overcome their serialization and traceability challenges, from pharma and food right through to grocery, luxury goods and cosmetics. With our track and trace platform, you will know exactly what is happening at any given time.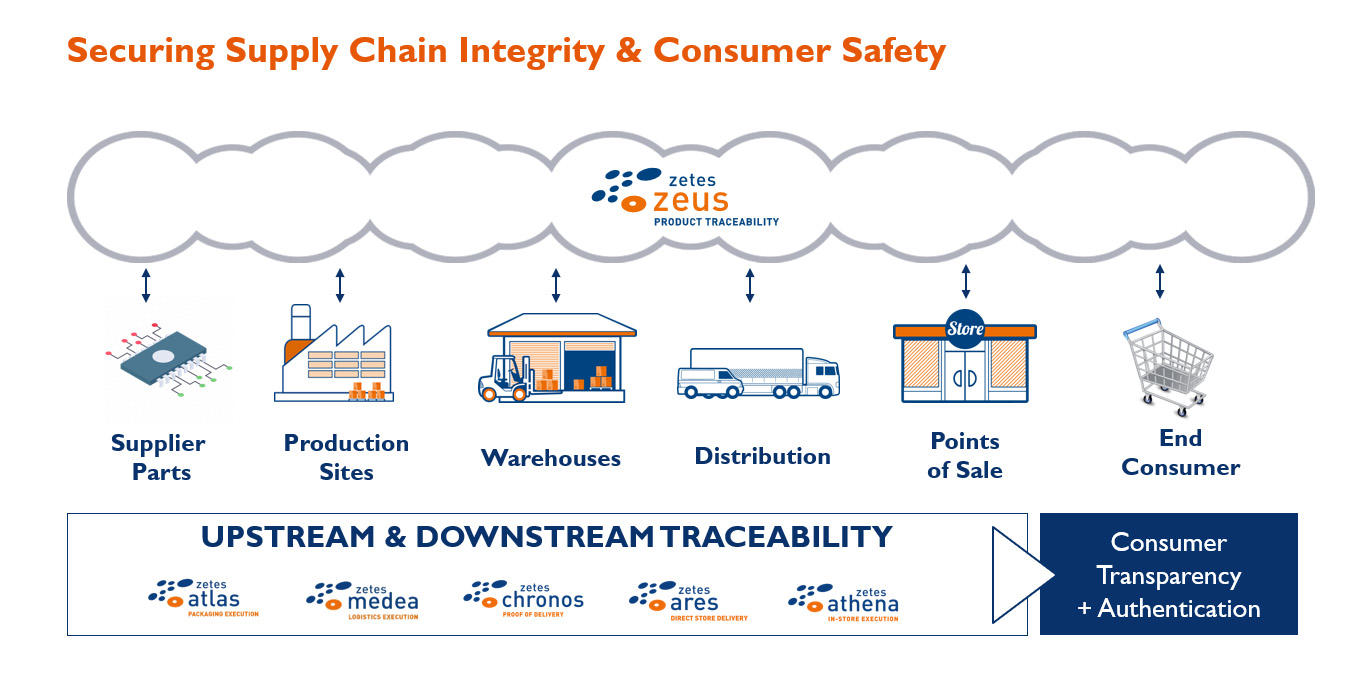 What can our product traceability software do for you?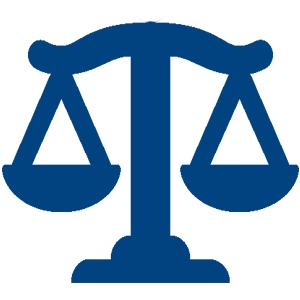 Legislation compliance
Meet current and future regulations and legislation.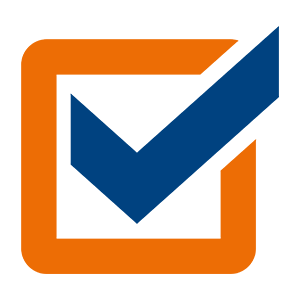 Brand authentication
Verify product provenance and fight counterfeiting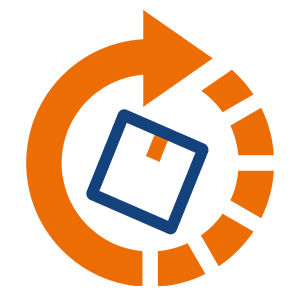 Product recall
Have efficient product recall management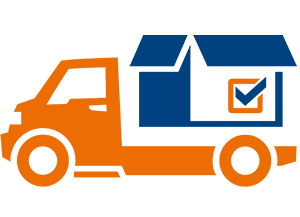 Grey markets
Counteract unauthorised product distribution
Zetes is helping multiple industries comply with traceability regulation here are just some:
Track and trace from production through to the store
ZetesZeus is our cloud based product traceability platform. This product traceability software been designed to provide traceability across your supply chain network. You can use it with our portfolio of data capture solutions starting at the packaging line with ZetesAtlas for product serialisation through to ZetesMedea solutions for the warehouse. ZetesChronos is used for field delivery and ZetesAthena for in-store retail operations.
"What impressed us with Zetes was its expertise in the field of unit-level traceability, its technical skills and the commitment of its support teams."
Charles-Ernest Armand, Administrative and Financial Director of the EPC Group - Read how EPC ensures unit level traceability of explosives
Empower your supply chain with ZetesZeus
Whatever industry you are in, ZetesZeus gives your staff accurate and up-to-date information regarding events, materials and assets. With this advanced product traceability software, you will have complete control over your operations including:
Custom information related to your product orders and their components, raw materials or ingredients.
The past and present status of all logistics and transport events across your end-to-end supply chain network.
Track & trace logistics units and returnable assets.
Synchronise data from internal and external sources
When you use ZetesZeus product traceability software you can access and filter critical data from your internal systems as well as from supply chain partners.
Why use our product traceability software for end-to-end traceability?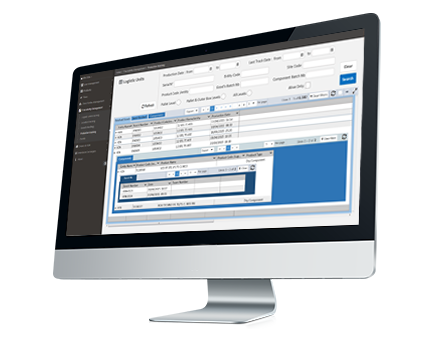 Flexible cloud-based data hub
Any supply chain data can be captured.
Data is recorded and secure for real-time and historical visibility.
No re-engineering of your existing systems is required to gather data.
Customisable Collaborative Interface
Raw data can be customised to provide shared dashboards and real-time alerts for all stakeholders.
Keep suppliers, third party logistics, legal entities and consumers informed.
Brand and consumer protection
Identify and confirm the location of your products at any time and point within the supply chain.
Exciting features for end-to-end traceability
Although business needs will differ according to the challenges you wish to address, we base our approach on three key areas:
Product information and alerts
Product availability information
Product order information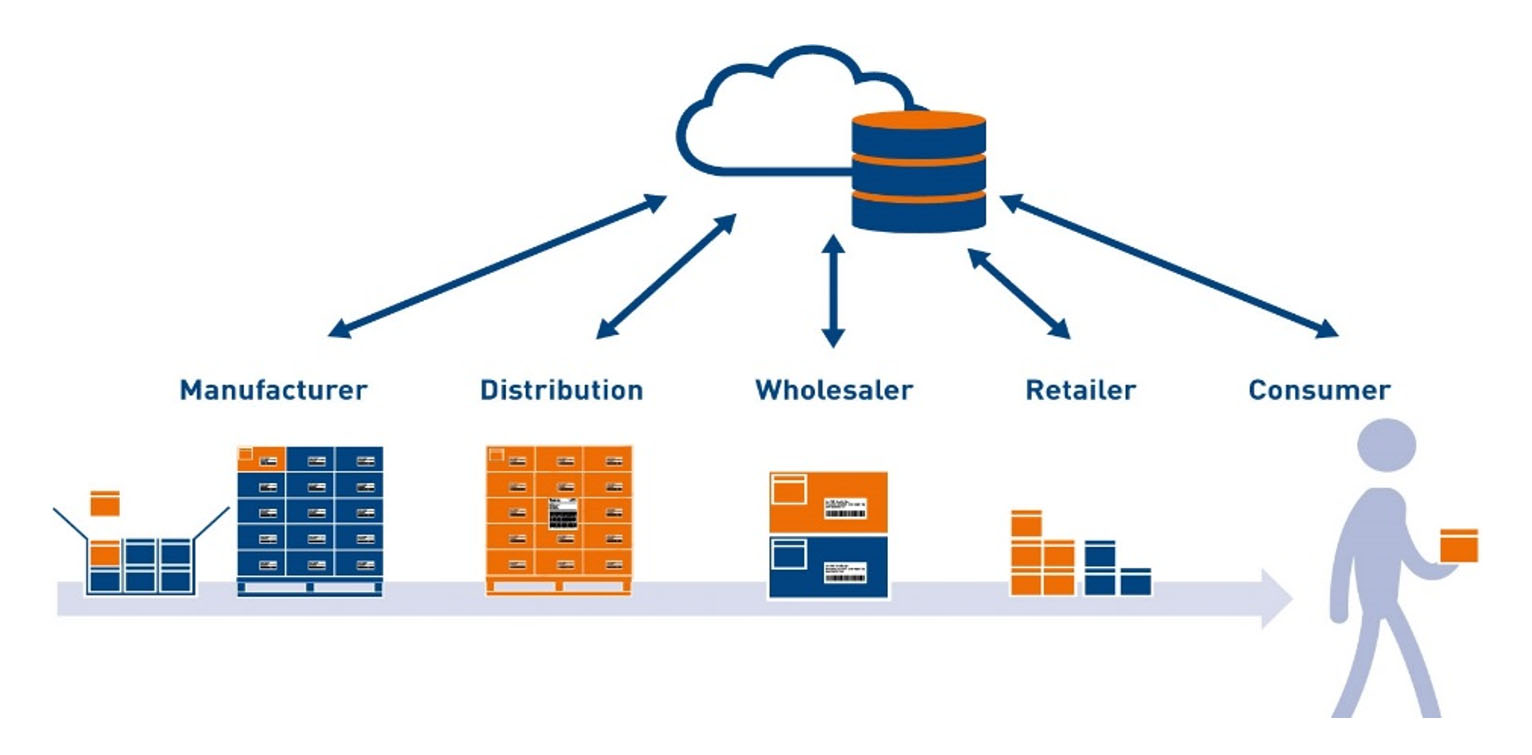 Whether you need visibility of individual serialised items, batch numbers or related purchase order data, you can access the Zetes dashboards, reports and alerts.
Product information
Bill of material
Components
Raw materials
Origins
Operations
Batch Numbers
Serialised Numbers
Product availability
Single item
Bundle
Box
Pallet
Asset
Order documentation
Purchase order
ASN
Shipment numbers
Transport Units SSCC
Why work with Zetes?
We have over 30 years' experience providing product traceability solutions. As a single source provider, we have an in-depth understanding of complex, global traceability processes in demanding markets. Having a single point of contact removes risk and complexity for your business.
Our product traceability and visibility solutions are used by leading manufacturers and retailers such as EPC Group, Bristol Meyers Squibb, Sanofi and Azcar. We're based in over 30 offices across Europe to give you a fast and efficient service.
Partnering with you to deliver your project
Our approach to helping our clients is tailored to their requirements but will typically include:
Workshops to understand needs and map critical stakeholder requirements.
Review of end-to-end traceability processes and gap analysis of supply chain stakeholder processes and data integrity.
Selection of appropriate data capture technologies including barcode, RFID, machine vision and IoT sensors.
Supplier on-boarding programmes where required.
Full implementation, testing and support.
Related articles
No time to waste | The 10 must-haves in a supply chain visibility partner | Chain reaction | Supply chain blindspots | Demands and Supply