Brussels (Belgium), 01 February 2022 – D'Ieteren Automotive, the exclusive distributor of Volkswagen brands, was seeking a trusted partner to optimise their transport processes and equip them for the future. With their implementation of ZetesChronos for delivery process optimisation, distribution is now digitalised to enable complete real-time traceability and efficiency. 
D'Ieteren Automotive is the exclusive distributor of Volkswagen brands, including Audi, SEAT, Škoda, Bentley and Porsche. With a market share of 22%, it is one of the largest vehicle distributors in Belgium and works in collaboration with Parts Express for their internal logistics. Parts Express has been working with ZetesChronos for a year now, using 60 devices and serving around 220 customers. Smooth organisation of vehicle and parts operations – with 49 droppoints during the day and 220 during the night - is crucial to the company's success. Their need for greater process optimisation led them to evaluate new systems that could offer new features for future-proofing the supply chain.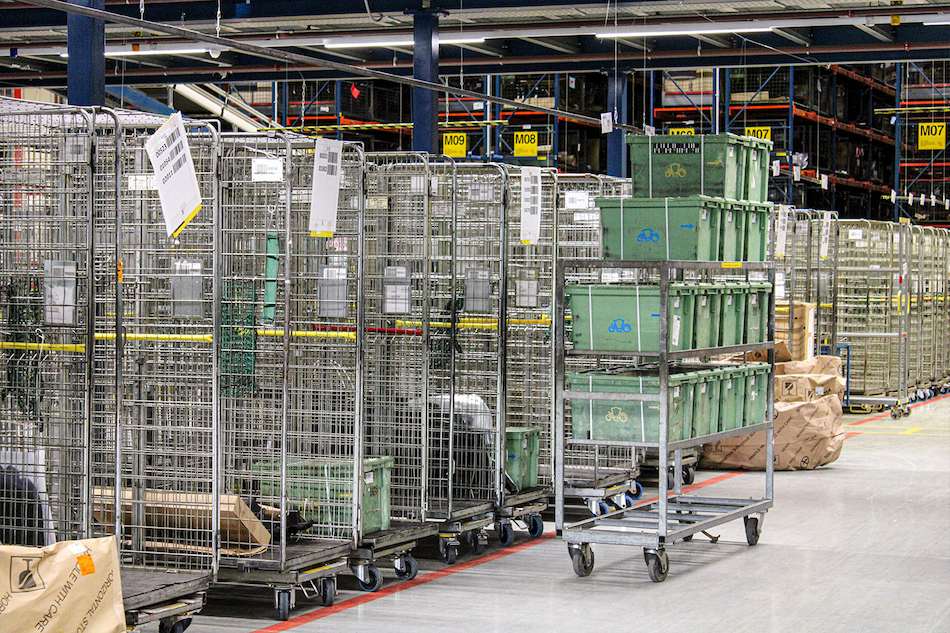 Filip De Wit, Logistics IT Support Manager at D'Ieteren: "Last year we implemented Microsoft Dynamics, and we were looking to integrate a new solution for tracking our goods. Following extensive evaluation, ZetesChronos scored the best of various candidates. For us, the key selection criteria which led to selecting Zetes were the process efficiency gains we could achieve together the ability to have full traceability throughout the delivery chain."
Digitalisation ensures fully paperless system
Equipped with rugged mobile devices, drivers are guided through their deliveries, from picking up to delivery. Both drivers and management have full visibility of the goods and their status. The integration of digital document signature replaces previous paper-based documents, detailing exactly what each truck is carrying for each drop point. Filip De Wit: "In the past this involved mountains of paperwork. Thanks to ZeyesChronos, D'Ieteren is now working fully paperless – an enormous time-saver because we no longer have to print the documents individually.  We are a true pioneer of digital CMR documents, but ZetesChronos also makes it easier to keep track of our empties; we have real time shipment visibility with the ability to accurately track returns of delivery containers. Finally, it is a flexible system, enabling simple adjustments or updates – unlike our previous system."
End-to-end visibility
D'Ieteren collaborates with Parts Express for their internal logistics. As the end user of ZetesChronos, they have also shown enthusiasm. Erik Thiels, Transport & Station Manager at Parts Express: ""As the logistics partner, we were involved in the evaluation of the solution. Zetes made a very positive impression with their expertise and experience. They provided concrete answers to our specific questions, giving us a good feeling that the system would be well matched to our needs. Today our efficiency is much higher thanks to traceability and automatic archiving in the system."
"Our efficiency is much higher now thanks to traceability and automatic archiving in the system." Erik Thiels, Transport & Station Manager at Parts Express
We also noticed that Zetes is able to offer a much more extensive package, enabling end-to-end delivery visibility. For example, previously we could only scan a specific activity and then execute it, but now our goods are truly traceable and we can follow the entire process from pick-up until delivery live. For us as a carrier, this extended capability is very important."
Other important benefits have also surfaced in the course of time. Erik Thiels: "For us it is crucial that a photo is taken if there is any damage to the goods. Previously this was rarely done because the photo was only a snapshot. Now - with 99,27% scan performance -  photos are taken every day, even with night deliveries. These photos serve as proof of presence. In the absence of someone to sign for receipt of the goods, we use the geolocation and time data from the photo as proof that the goods were delivered. The photos are stored in ZetesChronos, so we can always retrieve them for consultation."