In a recent report issued by KPMG, which looked at the illicit tobacco trade in the EU, Norway and Switzerland, it was estimated that last year, counterfeit and contraband cigarette consumption was 8.7 % of total use in the EU – that equates to 44.7 billion cigarettes. In the UK, illicit cigarette consumption increased from 14.3 % to 17.8 % between 2016 to 2017, the highest level recorded since 2005 to 2006. Worldwide, it is thought that 6 % to 8.5 % of the global cigarette trade is illegal.
In the fight against illicit trade, the revised Tobacco Products Directive (TPD) 2014/40/EU will set the framework for the tracking and tracing of the movements of tobacco products on the EU market. The first phase of the TPD is set to come into force on 20th May 2019 and covers cigarettes and roll your own tobacco. By 2024, this will encompass all other tobacco products.
The purpose of the TPD is to pursue a high level of health protection for European citizens. Additionally, the legislation will ensure better control of contraband and help to confirm that tax is correctly paid.
The TPD in practice
Firstly, it is important that the market knows and understands what the requirements of the Directive are and how projects for compliance can be evolved.
The directive states that:
All Economic Operators need to be TPD compliant: Manufacturers, Importers, Wholesalers, Distributors, Merchandisers, Van sales and Retailers
Each packet of tobacco product should be marked with a unique identifier and the introduction of security features to prove authenticity.
All movements of products are to be recorded so that each can be tracked and traced throughout the supply chain and compliance with the Directive can be monitored and enforced.
In order to ensure independence and transparency of tracking and tracing, manufacturers should conclude data storage contracts with independent third parties.
Each manufacturer or importer of tobacco products must also set up a database ('Primary Repository') to store all the data related to every individual package, and to copy all information into an EU-wide database / hub ('Secondary Repository').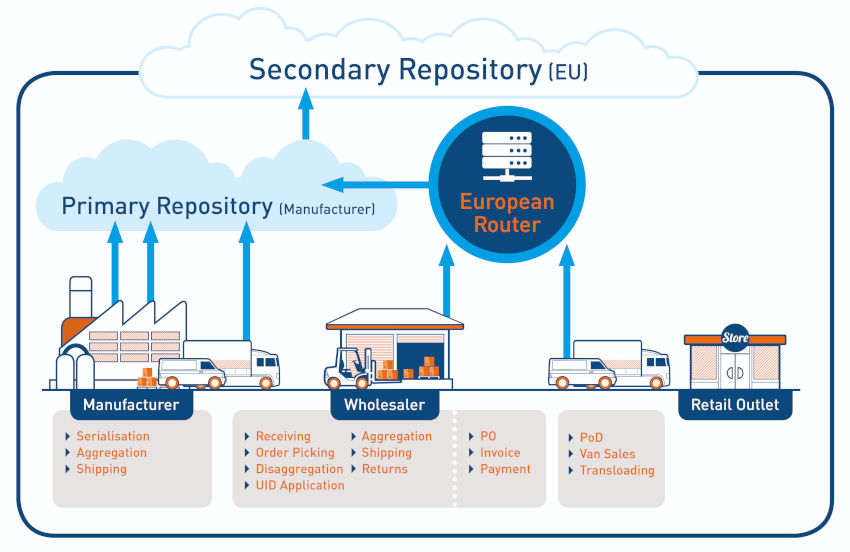 The ability to track and trace all movements will enable every economic operator in the supply chain to log an audit trail of the exact journey of each product, from the manufacturer to the retailer.
What does this mean for wholesalers, distributors, van sales operators and what are the challenges of the TPD?
Whilst some organisations may have warehouse management and possibly warehouse execution systems already in place, what they will not have is the ability to scan and capture unique item IDs on mass, retrieve the data and share it outside of the business. Users will need to ensure that the movement of every tobacco product is scanned and recorded throughout the supply chain, from point of manufacture throughout distribution to point of sale. Whether you are a mobile van-sales operator fulfilling direct store or vending machine deliveries or a contractor shipping to retailer outlets, you will have to ensure compliance every step of the way.
Though this may seem a disruptive process, with the appropriate automation and technology in place, Economic Operators can enhance visibility throughout the supply chain whilst maintaining compliance.
When projects for compliance are conducted in the right way, this can essentially enrich business operations and not just be seen as an overhead for new regulation.
How to ensure compliance and future proof the supply chain?
To be in a position to effectively respond to the Directive, Economic Operators will need to work with third parties that are collaborating closely with the European Commission. They should look at those that can bring together a deep understanding of the challenges being faced and the integration of both the hardware and software, which can successfully capture and aggregate data. Primarily there are two layers of compliance:
Execution - How organisations incorporate the right edge technologies, mobile devices and execution level software solutions. How they can obtain the capabilities needed to accurately scan products and their movements. How they capture data on mass and be able to efficiently handle such high volumes of data.
Communication with the repositories - How organisations can add a level of reporting onto their business operation and to have a capability for syndicating compliance level information to the Secondary repository.
As businesses strive for operational efficiencies and new regulations continue to demand transparency around the movement of products, companies must seize this opportunity to take advantage of the benefits that traceability can yield.
As transparency around the movement of products is becoming a must, companies should seize this opportunity to reap the benefits of traceability.
From 20th May, manufacturers will not be allowed to put cigarettes or tobacco products in the market if they are not serialised. No unique identifier, no trade. As this will impact the entire supply chain, and with the implementation date looming, the time for projects around compliance, if they haven't already started to be defined, is now.
Olivier Frère, Serialisaton Expert, Zetes