Floréac
Objective:
---
Deliver 100% accurate shipments
Reduce customer complaints
Deliver reliable freight list per shipped trolley
Solution:
---
Shipping verification solution based on vision technology
Cameras automatically detect and read multiple 2D barcodes on moving trolleys.
Images provide visual proof of shipment
Integration with SAP
Result:
---
Drastic reduction of errors
Less complaints: 50% reduction in credit note value
Less paper: no extra certificate of delivery required
Floréac guarantees accurate shipments and 50% reduction in credit note value thanks to the combination of digital cameras and automatic shipping verification with Zetes' vision technology.
Floréac is active in the trade and distribution of pot plants in Europe. From the distribution centre (DC) in Lochristi (Belgium), which employs 100 people, shipments are sent to customers - mainly specialised garden centres, DIY stores and wholesalers - once to three times per week. Customers are located mainly in Great Britain, France, Belgium, Germany and Switzerland. Floréac guarantees accurate shipments, reduces customer complaints and more than halves its credit note value thanks to automated shipping verification on its plant trolleys based on Zetes' vision technology. The camera-based system enables a vast amount of 2D barcodes to be read in one quick scan and to immediately link them to the ERP system (SAP). Any error is therefore immediately flagged, images provide visual proof of shipment and correct freight lists are printed off and delivered per trolley.
Increasing shipment reliability
Pot plants are distributed on sector specific Danish trolleys. These are standard plant trolleys used to transport plants in Europe. At Floréac, the trolleys are internally transported through an RFID operated chain conveyor running through the entire DC. The picking labels, which have a 2D barcode and correspond to the order lines of the orders, are stuck on a cardboard panel to the front of the trolley during order picking. Once the trolley has been fully loaded and is ready for transport, it is carried to the correct loading quay by the chain conveyor.
Taking into account the manual processing of order lines, with a volume of 25 to 35 order lines per trolley and peak times of 12,000 to 14,000 order lines per day, human error would regularly slip into the logistic flow.
" We sometimes invoiced for order lines that weren't delivered" , says Dirk Criel, Logistic Planner at Floréac.
Need for quick & efficient shipping verification
In order to guarantee accurate shipments, including a correct freight list per trolley, Floréac looked for a solution that would provide a quick and efficient shipping verification system on completed trolleys. Automatic error detection and building up an image bank in the event of complaints were the most important challenges. At first, manually scanning the picking labels appeared to be an option. However, considering the vast number of order lines, this idea was shelved because overly time-consuming and too expensive.
Zetes' vision technology as only option
Floréac went looking for another option and found it with Zetes, who, with its shipping verification solution based on vision, appeared to be the only player able to offer an efficient system.
Vision technology is an imaging solution that instantly captures a large number of barcodes (1D or 2D), decodes the information and links it online to a production system (ERP, MRP, WMS, ...). Floréac is therefore immediately able to detect if all products on the trolley are part of the same shipment.
Automatic scanning and decoding of multiple barcodes
The Floréac vision system has been set up as a gate in the floor chain. As images of the trolleys are captured as they move passed , the logistic flow is never delayed or interrupted.
The system takes 2 sets of images of each completed trolley:
The first set consists of an image of the fixed, unique 2D barcode of the trolley itself that will be linked to the image of all 2D picking labels that are stuck to the front panel of the trolley during the logistic flow. This ensures that all order lines on the trolley are linked to the ID of the trolley. This information is then sent to SAP which checks if all picking labels are part of the same shipment . Should this not be the case, the trolley will be taken out and an error report will be printed for the operator to correct the mistake.
"A second set of colour images, taken by two 'standard' digital cameras, can be used as visual proof of the shipped plants if required" , clarifies Dirk Criel. The images of every trolley are stored in the image bank and provide proof in the event of customer claims with regard to quantity, quality, correct colour or size of the plants, etc.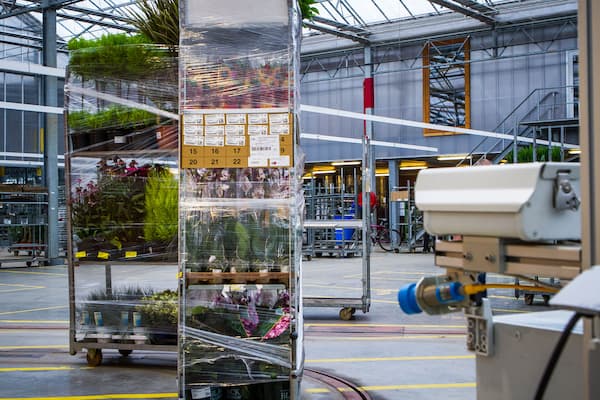 All validated trolleys are moved to the correct loading quay by the chain conveyor where a freight list will be printed per trolley.
Overcome obstacles
"As our logistic buildings consist of greenhouses where the amount of daylight continuously fluctuates, the quality of colour images could not be guaranteed at first. Capturing the 2D codes on the other hand, ran smoothly from the start. Together with Zetes, we looked for a practical and efficient solution to the problem and found this by integrating two digital cameras that automatically adjust to weather conditions ", explains Dirk Criel.
Advantages
Drastic reduction of incorrect shipments
Since the introduction of vision technology, the number of complaints caused by human error has drastically reduced. Any error is now instantly detected, corrected and fed back to the relevant employee. Dirk Criel: " Our employees are therefore much more alert and aware when processing orders ."
Refunds halved
Since establishing the image bank of colour images, the number of 'invoiced but not delivered' claims has significantly reduced. " Since we are able to provide proof based on an objective image, our credit note amount has been more than halved ", adds Criel. "Every unjust complaint can be refuted using the available image which has reduced the number of customers disputes to near enough zero. With regard to discussions with clients about quality, correct colour or size of the plants, these images provide the ultimate proof for the quality manager and sellers."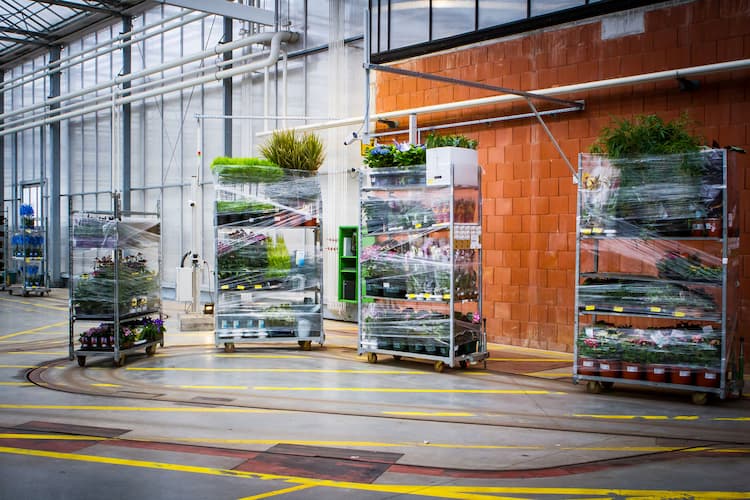 Time-saving & document accuracy
Moreover, by instantly providing every trolley with an accurate and printed freight list, Floréac has responded to its customers' request.