An integrated solution to ensure compliance
The Falsified Medicines Directive (FMD) 2011/62/EU came into full force on 9th February 2019. As a wholesaler, to ensure compliance you will need to be able to conduct risk-based verification, decommissioning or recommissioning of serialised packs. We help you ensure compliance by empowering warehouse operations with 2D data matrix barcode scanning and decoding capability with a direct connection to your country's national verification system (NMVO). Discover our cost-effective, integrated solution that works with your existing systems and processes.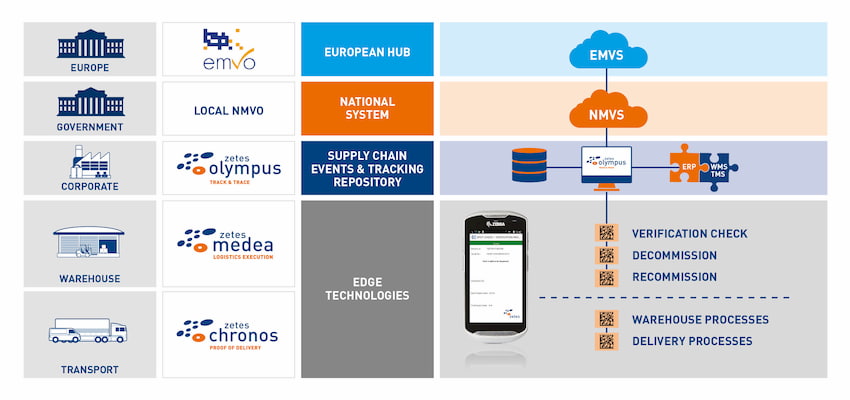 An end-to-end FMD compliance solution
As process and technology integration experts for the warehouse, Zetes is currently helping pharmaceutical manufacturers and wholesalers across Europe to cost-effectively ensure compliance with the Falsified Medicine Directive. Our fully integrated, packaged solution for wholesalers incorporates:
Risk-based serial number verification
Serial number Decommissioning and Recommissioning
Article 23 Decommissioning
Publishing to local National Medicines Verification Systems (NMVS)
Reporting and event history
Where required, additional warehouse process optimisation & track & trace enablement
"There is a concern that in order to introduce FMD compliance into the warehouse, a costly 'rip and replace' approach is required. This doesn't have to be the case."
Christian Taylor - Serialisation Expert at Zetes - Read the article
Powerful mobile application and event tracking platform
With our unique fully integrated approach you will enjoy the peace of mind you need. It's based on three pillars:
FMD mobile application: enables fast and easy scanning of Datamatrix codes using handheld devices to capture data and verify or decommission medicines.
Powerful event and visibility tracking platform: communicates with your National Hubs (NMVS). Registers all events linked with verification and decommissioning for a period of up to 10 years.
Solid system integration: our 30+ years of supply chain systems integration ensure seamless integration with your legacy systems. Adopting our proven, risk-free approach helps you to become compliant on time.
With our modular approach you'll cost effectively meet the FMD requirements and leverage your FMD investment to enjoy efficiency and traceability from the warehouse to the point of dispensing. Your FMD solution integrates seamlessly with the ZetesMedea logistics execution solution to add agility and efficiency to your warehouse operations. In addition, with our mobile proof of delivery solution ZetesChronos you can ensure timely, accurate deliveries to gain real-time delivery visibility and traceability.