United Kingdom
Registration closed
Wednesday 02.02.2022
The Supply Chain has never faced greater challenges than it does today. Increased online demand, greater volatility and labour pressures are all creating added complexity for the supply chain, especially within retail and logistics.
With traditional automation you have had to adapt your warehouse to the technology, when in fact what you need is technology that can easily adapt and scale to your warehouse.
Join Zetes and your peers as we explore these challenges and learn about some flexible technologies which can help you to stay dynamic and agile in the face of a changing and more disruptive landscape.
Why attend?
This half day conference will explore the changing face of the warehouse and how process optimisation, enabled by smart technology, can make a real difference – bringing about efficiency and productivity gains that will enable future business continuity.
Alongside our keynote session provided by Professor Richard Wilding, you will have the opportunity to hear from retail and logistics specialists on how they have enhanced their operations to gain a competitive advantage.
In the Partner Showcase there will also be the opportunity to explore some of the latest innovative technologies from Zebra, Panasonic, Datalogic and ProGlove.
Agenda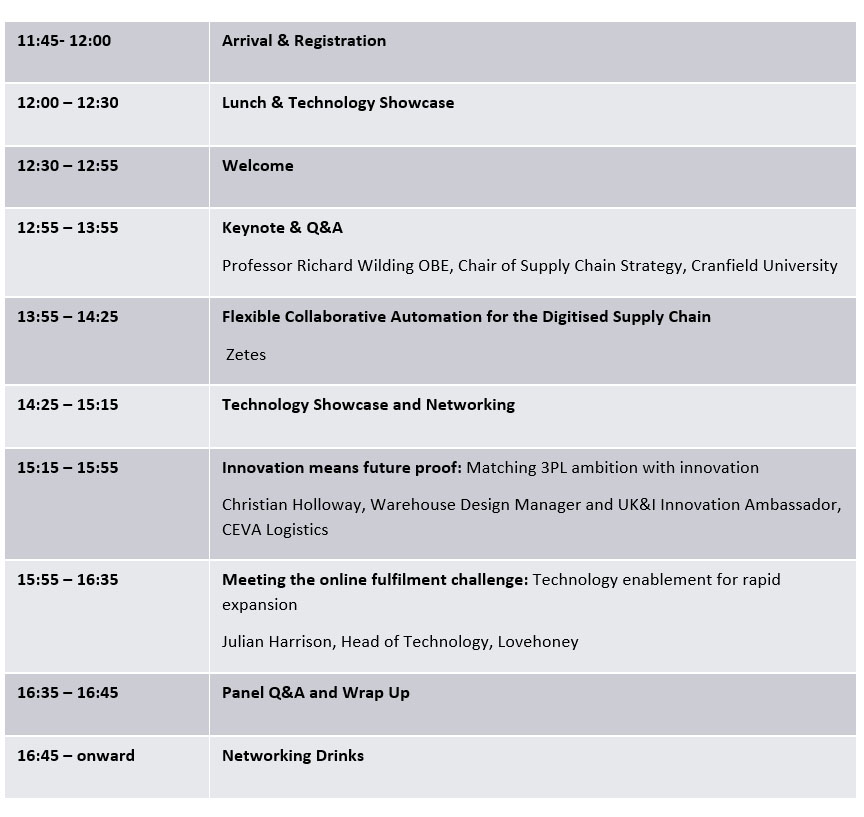 Who should attend?
This event is exclusively for Senior Innovation, Warehouse, Logistics and Supply Chain executives within Retail and Logistics
Register Today
Don't miss out on our exclusive event where you will enjoy a programme of presentations, technology interaction and peer networking which will educate, inform and inspire you to realise the full collaborative potential of a digital supply chain.
The registration for this event is now closed.
Location
Kings Place Events
90 York Way
Kings Cross, London N1 9AG