Brussels (Belgium), 23 September 2015 - Zetes is pleased to announce the availability of its logistics execution solution ZetesMedea Voice on Zebra Technologies' Android™-based voice-capable mobile computers.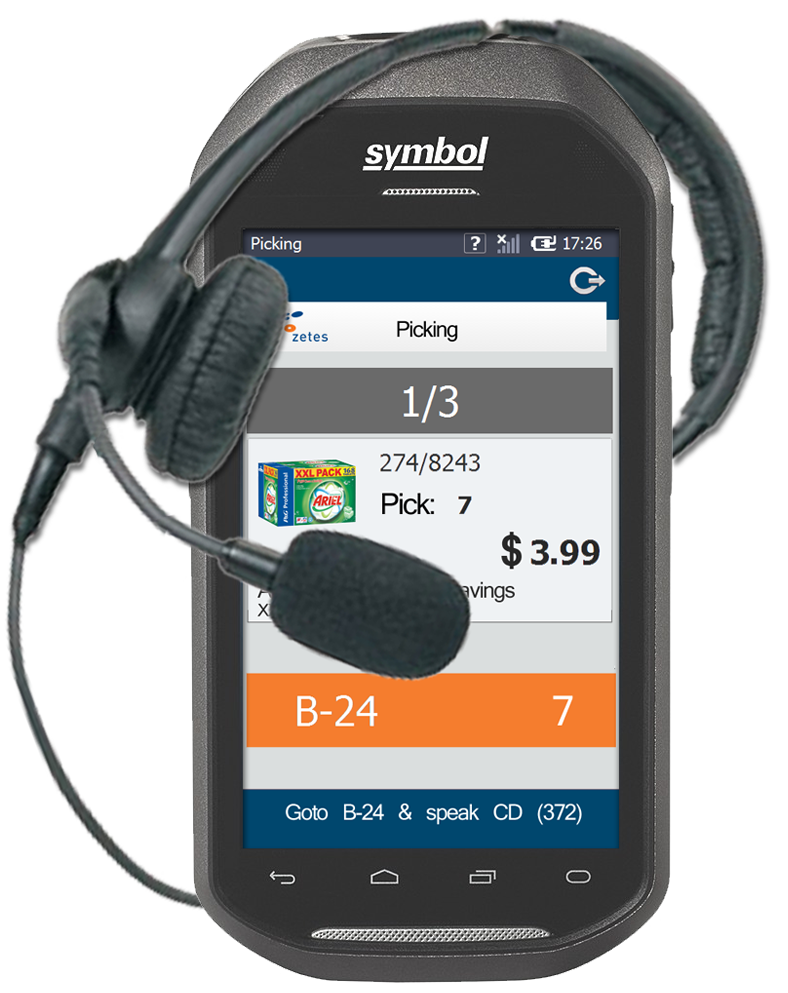 Zetes industrial voice solution has been successfully deployed on thousands of Windows-based devices throughout Europe. ZetesMedea Voice relies on the MCL-Voice engine - which is now certified on Zebra's MC40 enterprise mobile computer and will soon support all Zebra Android-based voice-capable mobile computers.
By supporting Android-based devices, ZetesMedea Voice can be ported from Windows devices and run additional proven software solutions on the latest hardware platforms.
The ZetesMedea Voice solution integrates the enterprise cloud-based MCL™ Mobility Platform offering unified and centralized management of Windows and Android environments.
Alain Wirtz, CEO of Zetes says, "We are pleased to be the first to offer this technological advancement which proves that innovation is at the heart of our strategy. We are committed to remain at the forefront of industrial voice solutions and provide our customers a seamless transition to next generation hardware platforms."
"We're pleased that our relationship with Zetes will provide customers with the first truly multi-modal voice solution for enterprise-class Android mobile computers," said Joe White, vice president, Enterprise Mobile Computing, Zebra Technologies.
- END -
For more information
Corporate Communications Manager
Sandra Franchitti
T +32 2 790 38 90
E sandra.franchitti@zetes.com
About Zetes
Zetes is an international corporation specialising in the provision of identification and mobility solutions. By using the latest technologies, Zetes enables its customers improve the speed and quality of their process execution and increase data accuracy, which in turn helps them to remain at the forefront of their industries. That's what makes Zetes both a pioneer and a market leader at the same time.
The Zetes Group is based in Brussels and has more than 1100 employees in 19 countries across EMEA. In 2014, its turnover was €245.3 million. More information: www.zetes.com
About Zetes' supply chain solutions
Zetes transforms the way modern supply chains collaborate. Its process optimisation solutions for packaging, storage, proof of delivery, sales, direct store services and store management, all linked by the ZetesOlympus repository, allow large companies to implement end-to-end tracking and tracing of goods, from production to the end user. Zetes plays an important part in helping companies deal with the challenges of global tracking, such as serialisation, parallel markets, security, legal obligations, and counterfeiting. Zetes integrates next-generation cloud platforms with cutting-edge technologies such as imaging, voice recognition, RFID, codification and mobile terminals. Zetes is a trusted partner that can guarantee perfect life cycle management of all its solutions, with its Zetes TotalCare and Zetes TotalFinance services.