Tokyo, Japan – Panasonic Connect Co., Ltd. announced today that its CEO, Yasu Higuchi, was awarded the Officer in the Order of the Crown medal — a national order of the Kingdom of Belgium — which was handed to him by Roxane de Bilderling, the Ambassador of Belgium in Japan, at a ceremony held at the Belgium Embassy in Tokyo on December 2, 2022.
The Officer in the Order of the Crown is one of the highest orders of the Kingdom of Belgium. It is attributed by His Majesty the King of the Belgians to those who have made distinguished services to the country.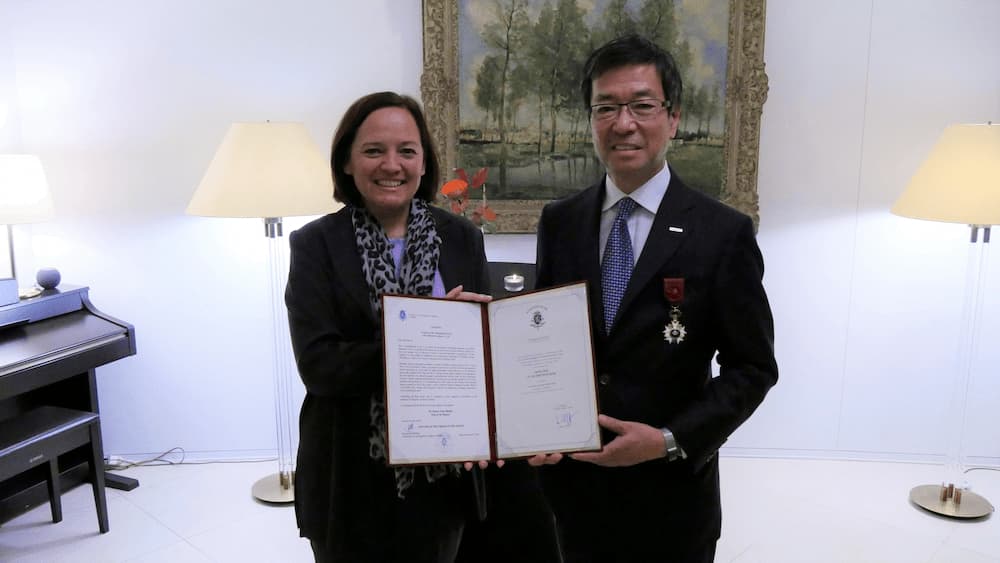 The award was given in consideration of the success of Zetes, a supply chain optimisation and citizen identification solutions company headquartered in Belgium, which joined the Panasonic Group as a wholly owned subsidiary in 2017. Since then, Zetes has managed to successfully create strong synergies with Panasonic and thus contributed to strengthen the ties between Belgium and Japan. Zetes falls under the umbrella of Panasonic Connect, and the two organizations have been creating mutually beneficial business results since 2017.
At the ceremony, Higuchi proclaimed his gratitude for the prestigious award by saying, "It is a great honor for me to receive this award. We are very grateful for the good relationship we have enjoyed with Belgium over the years. Going forward, Zetes and Panasonic will continue to collaborate deeply on producing even better results that can benefit both companies and both countries."
Panasonic Connect will continue to develop solutions and contribute to the development of countries around the world under its purpose to "Change Work, Advance Society, Connect to Tomorrow."
About Panasonic Connect
Panasonic Connect Co., Ltd. was established on April 1, 2022 as part of the Panasonic Group's switch to an operating company system. With roughly 28,500 employees worldwide and annual sales of JPY924.9 billion the company plays a central role in the growth of the Panasonic Group's B2B solutions business and provides new value to its customers by combining advanced hardware, intelligent software solutions, and a wealth of knowledge in industrial engineering accumulated in its over 100-year history. The company's purpose is to "Change Work, Advance Society, Connect to Tomorrow." By driving innovation in the supply chain, public services, infrastructure, and entertainment sectors, Panasonic Connect aims to contribute to the realization of a sustainable society and to ensure well-being for all.