Get it right first time, every time
Here's a shocking statistic: 62% of retailers don't have access to real-time information regarding product availability. These retailers are in a rocky position when it comes to achieving first to final mile excellence in a world where customers are demanding more. Here are our top tips to help you stay competitive.
Visibility throughout the supply chain
In an increasingly complex supply chain involving many parties, real-time visibility empowers you to engage with the customer and spot opportunities as well as inefficiencies and act upon them. End to end supply chain visibility is essential for long-term customer satisfaction and brand reputation. Working with Zetes, M&S transformed their process from zero visibility to an agile, data-driven network, improving order fulfilment, flow of goods and sustainability. You can only get it right first time, every time, with visibility.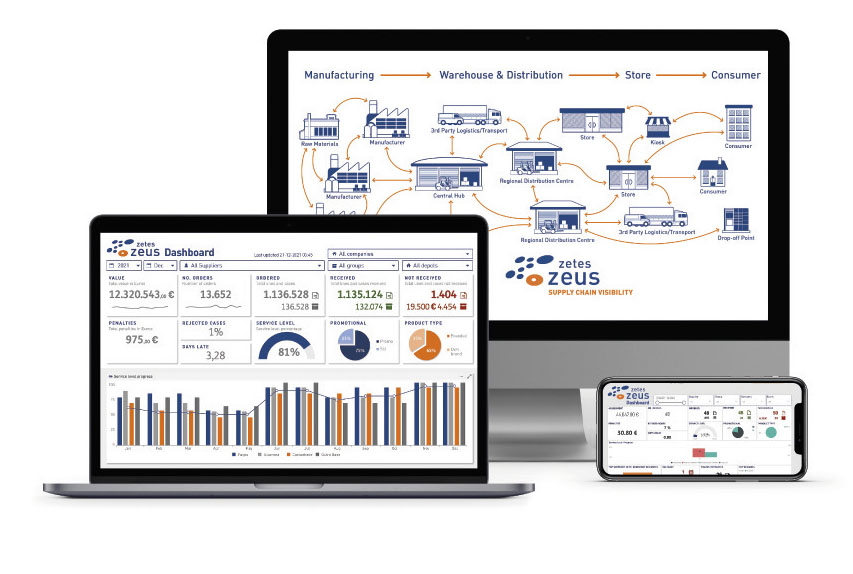 Control = Accuracy = Excellence
As well as visibility, minimising manpower whilst maximising control is also key. In the first mile, vision-based shipping verification technology and voice-directed picking systems will dramatically improve efficiency and reduce errors. For example, simultaneously reading multiple product barcodes on a pallet instead of manually scanning individual items increases productivity and alerts workers to errors immediately. Incorrect or missing items can be rectified early on and increase accuracy to 100% in many cases. When the last mile can account for 30% of total order fulfilment costs, it's imperative to be in control of your entire operation including third party performance. You can only get it right first time, every time, with visibility.

To be a market leader, you need scalability and agility
Responding to demand fluctuations profitably without compromising service levels is a huge challenge, but a very real one. Harnessing the correct technology to optimise critical processes in the supply chain enables an elastic logistics model that can easily scale up or down. This flexibility is far more effective than hiring and training extra labour to accommodate seasonal peaks. On top of this, predictive analytics that map carrier performance to customer demands enable a business to become more agile and retain a competitive edge.
Investigate new delivery models
74% of Europe's population currently live in urban areas and delivering to these customers is becoming increasingly difficult, leading to failed first time deliveries and poor service levels. If you haven't got a strategy for your future supply chain, start thinking about emerging notions such as night deliveries, smart lockers, crowdsourced delivery and Urban Consolidation Centres which could save you 25% per parcel delivery. These alternative models are also beneficial in terms of reduced emissions, fewer shipments and easing congestion.

Adopt smart technology
Only 13% of companies are investing in technology, yet the internet of things (IoT), big data and artificial intelligence (AI) can deliver huge benefits to supply chain and logistics. Through enhanced visibility, companies can experiment, innovate and make continual improvements to provide excellence. For example, better forecasting, optimised routes and delivery solutions that avoid repeating the same mistakes.
Manage expectations and communicate