Pharmaceutical serialization: risk-free and future-proof for peace of mind
ZetesAtlas for Pharma is a serialization and packaging identification solution for the pharmaceutical and healthcare industry. It's modular and scalable making it simple and easy to implement. It helps you to be compliant with the Falsified Medicines Directive (FMD), Unique Device Identification (UDI) regulation and any future serialisation, aggregation and e-pedigree requirements.
A modular solution
With ZetesAtlas you centrally manage and control the critical functionality across your pharmaceutical serialization and aggregation processes. Select the modules you need today, and add functionality later without disrupting production.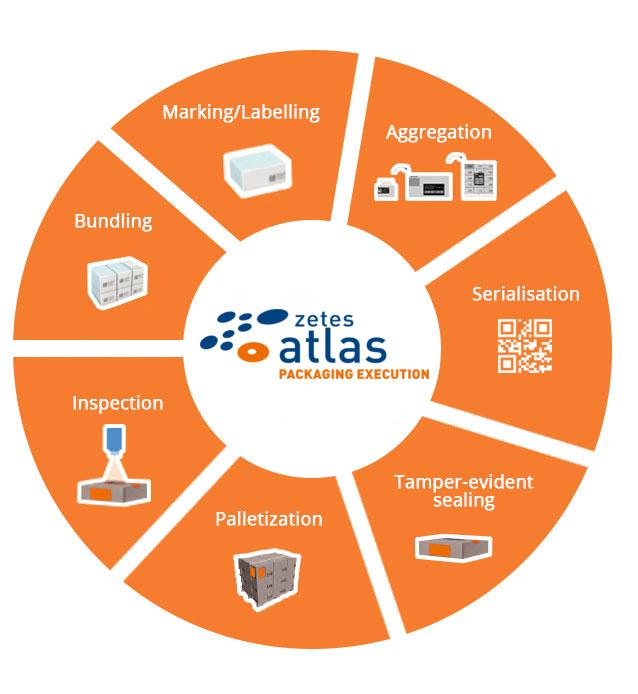 Make projects easier and quicker to implement
It is quick to implement ZetesAtlas on existing or new production lines and our solution integrates easily with your MES or ERP. Our packaging line experts work across over 30 offices throughout Europe and will help you with every aspect of your pharmaceutical serialisation project. You will have a single point of contact for technical advice and support to ensure a cost-effective, peace of mind implementation.
"We really appreciated the flexibility of the engineering by the Zetes teams – they provided us with machines that met our requirements perfectly. This project has been highly innovative, which will enable us to make other advances in quality."
Sylvain Ballesta, Project Manager, Bristol Meyers Squibb - Read the case study
HARDWARE
ID systems engineered for the pharma market
Carton ID
Bundle ID
Case ID
Pallet ID
Aggregation
Tamper-evident sealing
Secure print and inspect
SOFTWARE
Ensures OEE
Efficient, central line management
Technology independent
Serialisation Audit trail (events / performance registration)
Serial number management
External source
S/N creation
Validation (control/check/verify)
 
"One of the major challenges with serialisation is the fact that we are mixing three data worlds: master data, transactional data and the physical product. All these elements should be continuously and dynamically associated."
Sébastien Sliski, Collaborative Solutions Manager, Zetes - Read the full article
High speed performance
ZetesAtlas ensures accurate, fast identification and serialisation without disrupting your packaging line. You can mark up to 430 cartons a minute.
Secure integration
Solid integration with ERP, MES, and EPSIS.
Secure generation of serial numbers created via ZetesAtlas or an external source.
Seamless integration with existing or new packaging lines.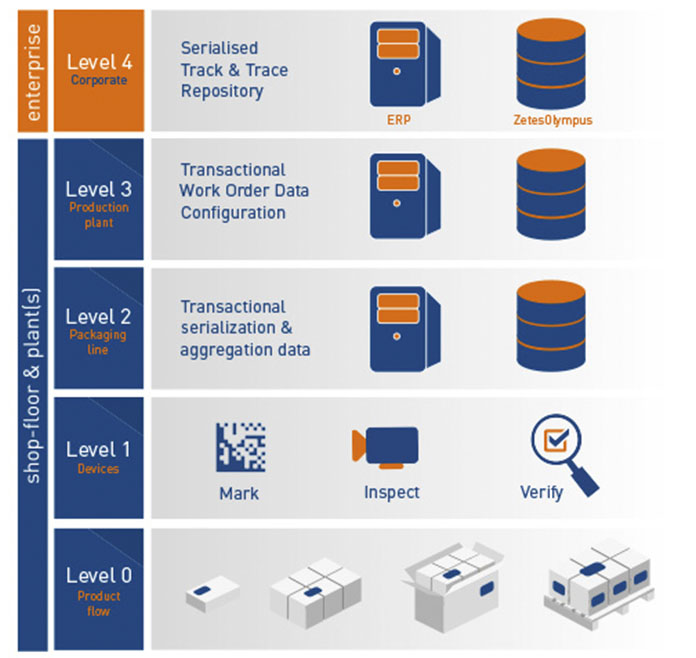 Why work with Zetes?
We have over 30 years of experience in packaging identification execution.
Our in-house software and hardware development is driven by an in-depth understanding of complex, global traceability processes in demanding markets.
Having a single point of contact removes risk and complexity.
Our Datamatrix marking and serialisation solutions are running at leading pharmaceutical manufacturers.
Having over 30 offices across Europe allows us to help you as and when you need it.
Track and Trace further down your supply chain
Our Collaborative Supply Chain Suite for Pharma allows you to meet current and future track-and-trace challenges from the manufacturing plant to the pharmacy/dispenser. It helps you create and manage serialized items across the full supply chain whilst improving cost, efficiency and customer satisfaction.